Greek and Latin Unleashed: Harvard Library's Contribution to the Digital Humanities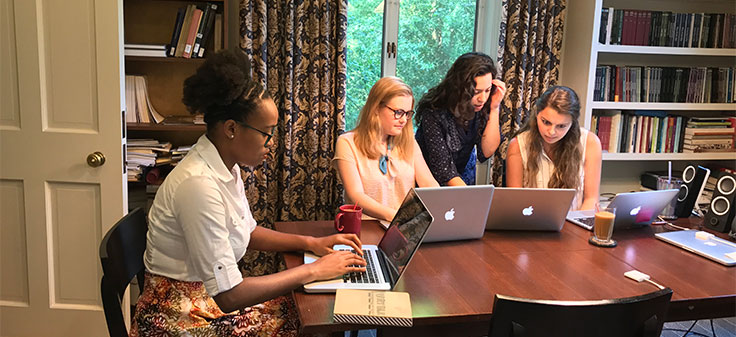 The Open Greek and Latin Project (OGL) is an international collaboration working to bring free access to all source texts written in Classical Greek or Latin from antiquity to c. 600 CE, including manuscripts, papyri, inscriptions, ostraca (broken pieces of ceramic material used as ballots) and more.
In 2016, the Harvard Library and the Harvard Center for Hellenic Studies joined forces with Mount Allison University and the University of Virginia to help the OGL implement a proof of concept of the project, focusing on the first thousand years of Greek texts. Funding for the First Thousand Years of Greek component of the OGL came from the Harvard Library through a grant from the Arcadia Foundation and the generous support of the Center for Hellenic Studies. The OGL is led by Professor Gregory Crane, the Humboldt Professor of Computer Science at the University of Leipzig and Professor of Classics at Tufts University and Editor-in-Chief of the Perseus Project. All partners in the project are providing staff and technical support.
This funding is helping the OGL complete the digitization of Greek texts and create an easy-to-use but functionally rich user interface. This will allow researchers to access, search, download, modify, and redistribute textual data to explore new forms in areas such as born-digital annotation, reading practices, audiences for Greek and Latin, and avenues of research. While the design of the website is under development, scholars are accessing and using the texts from GitHub, the software development platform. 
To encourage student work in digital classics, the Center for Hellenic Studies and University of Virginia Library have established First Thousand Years of Greek internship programs. The internships introduce students to digital tools and standards, giving them the opportunity to create their own text analysis projects. These projects aim to add a new generation of annotations and creating new "smart" editions that can personalize themselves to the needs of global audiences.
If print audiences depended upon the authority of their editors, OGL texts invite evidence-based annotations, where the foundations for each statement are increasingly transparent to a global audience -- such as the first translation from Herodotus' Greek into Persian or linguistic annotations that can be quickly localized into Arabic, Croatian and other languages beyond the English, French, German and Italian cluster that has dominated Greco-Roman studies.
OGL offers opportunities for students at every level, from the introductory student studying the Greek and Latin alphabets to advanced researchers proposing novel analyses of complex sources. Opportunities exist for students to progress to advanced levels, whether in formal classes or informal settings. Contributors to OGL can be citizens in a new, global republic of letters.
Interested in learning more? The Classics Librarians' Forum will sponsor a free workshop January 3-4, 2018: "Deconstructing the Open Greek and Latin Project: The First Thousand Years of Greek."
By Rhea Lesage, Librarian for Hellenic Studies and Coordinator for the Classics, Widener Library and Associate for Collaborative Initiatives, Center for Hellenic Studies.
For more information on this project, contact Rhea here.  
Published on August 9, 2017.