Where We've Been and Where We're Going
A look at how far we've come and where we're headed next. 
As we work to reimagine the Harvard Library digitally, we thought it might be fun to look back at where we've been. So we dug up one of the earliest versions of the library's website, from 2000: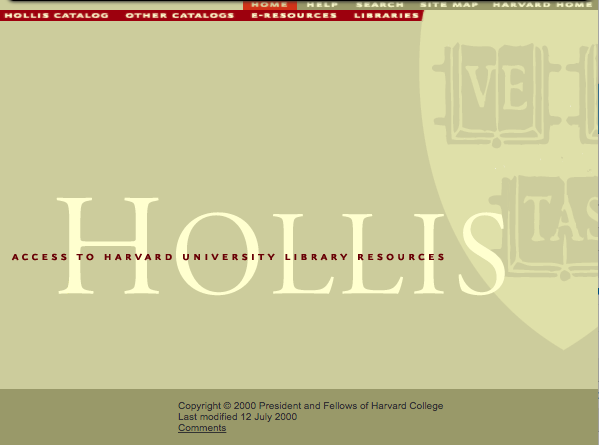 (You can explore it in all its Web 1.0 glory here. And for some Internet history context: Google.com was first registered in 1997. Facebook didn't launch until 2004.)
It's interesting to consider what's changed since then -- and also what hasn't. The technology, most definitely. But our collection is still the main reason people come to us, and so you'll find search displayed prominently in several versions of the site. (Check out this version from 2010, and the first iteration of what we have today, from 2012.)
Still, today's library is a lot more than just the volumes we hold. It's a physical space where students can study and collaborate. And it's the experts who work here who know exactly how to connect users to what they need.
We heard time and time again during our user research for this project that students wanted better access to those resources. Our new website will seek to make those connections easier.
Speaking of our new website, how about a glimpse of the future?
Below is the style tile that Velir designer Sarena Douglass created for the new Harvard Library website. A style tile is like a mood board you might see used by interior designers. It illustrates the general direction and style that the new website will follow. It also sets standards for font styles, colors, buttons and more.
This style tile will guide us as we continue to design more and more content types for the new site. And it will help us establish brand guidelines for all digital communications at the Harvard Library.
You will see bits and pieces of this style tile represented once the beta site launches in January.
Related: