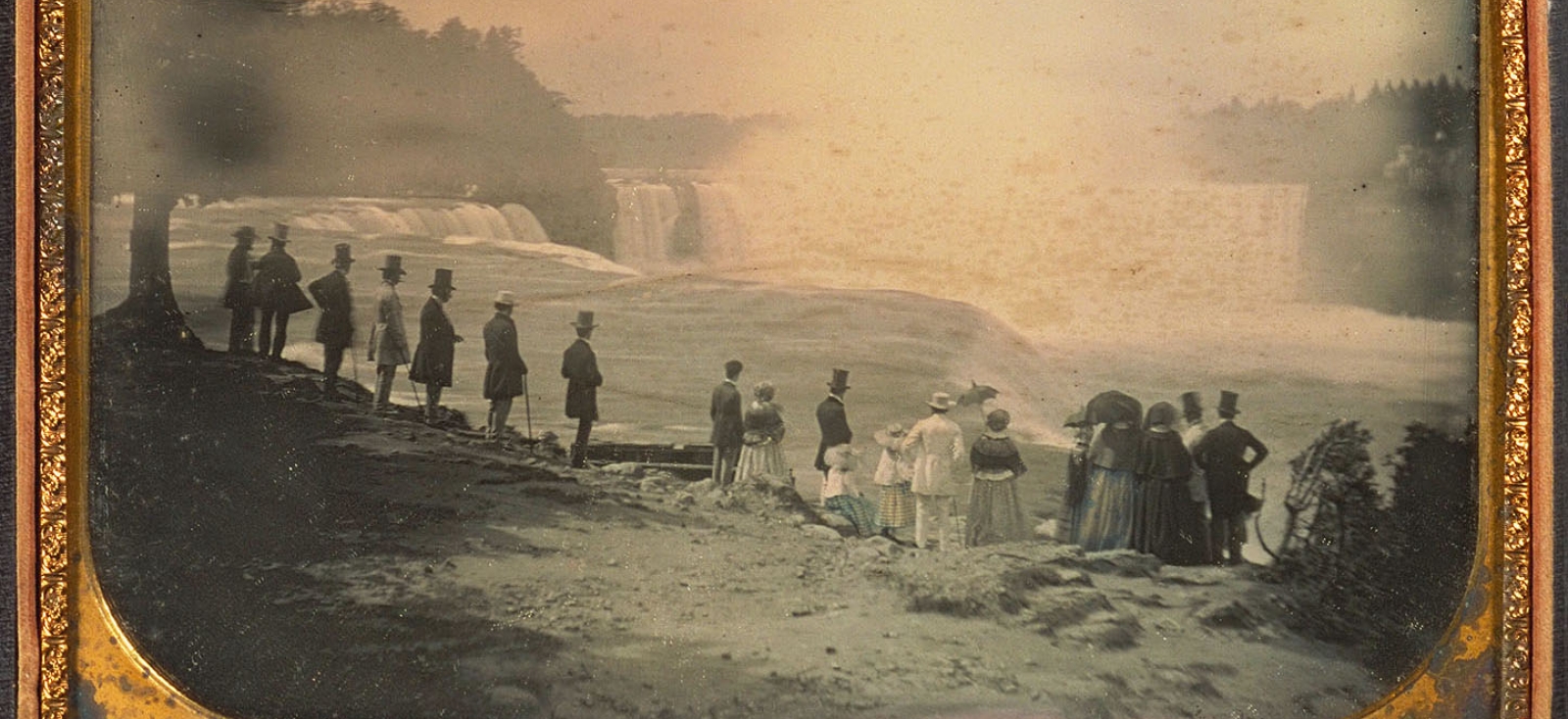 Bibliophile and philanthropist Harrison D. Horblit '33 was an early benefactor of Houghton Library. His many contributions to the library considerably enhanced its holdings in bibliography and the history of science. His most famous gift, however, is undoubtedly the Horblit Collection of Early Photography.
Horblit began this collection with the purchase of a collection formed by Sir Thomas Phillips, noted bibliophile and one of the earliest patrons of photography. Horblit steadily added other materials to the collection, including the Josephine Cobb daguerreotype collection and the photographic estate of early Neapolitan photographer Giacomo Arena.
In total, the Horblit collection came to include 3,141 daguerreotypes, 105 ambrotypes, 84 tintypes, 3,100 paper prints, 370 albums and photographically illustrated books, three cameras, and many reference works. The collection was given to Harvard in 1995 by Mrs. Jean Horblit.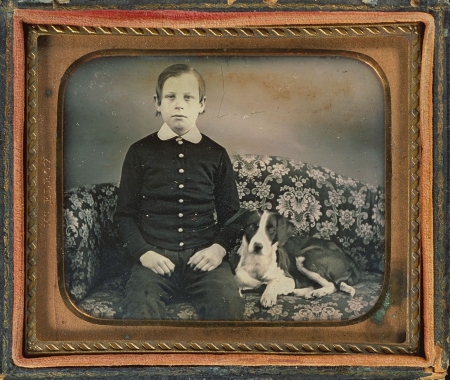 The earliest items in the collection document the birth of photography. They include the first published announcement of Louis Daguerre's eponymous invention, from 1839, and the first English and French editions of Daguerre's description of his process, issued later that year.
1839 was also the year British inventor William Henry Fox Talbot publicly introduced his own quite different process for "photogenic drawing," and Talbot's announcement is also preserved in the Horblit collection.
Daguerreotypy was the dominant photographic process for the first decade of photography's history, and the thousands of daguerreotypes that Horblit assembled reveal the special qualities and limitations of the form. Most of the daguerreotypes in the collection are portraits, and many of them demonstrate the daguerreotype's capacity to crisply capture fine detail. On the other hand, the eerily blurred faces of children and pets hint at the challenges introduced by the need for a long exposure.
Photography's popularity grew rapidly, and the ensuing decades saw many attempts to enhance the medium's adaptability, efficiency, and accuracy. The collection includes examples of many different photographic processes, including Talbot's calotypes (a form that allowed for multiple prints from a single image), ambrotypes (made on glass plates), tintypes, and albumen prints.
The early photographically illustrated scientific books in the collection sometimes feature multiple processes in a single volume: James Nasmyth's The Moon, for instance, contains six photogravures, four heliotypes, 12 woodburytypes and eight autotypes.
The diversity of subjects and styles of presentation evident in the collection reveal much about the uses to which photography was put.
Medical and other scientific works deployed photography to capture fleeting phenomena not otherwise easily observable. Stereoscopic images provided three-dimensional entertainment. Images of exotic lands allowed the public to experience the Grand Tour from their sitting rooms. Small portraits of public figures were traded something like baseball cards. Still-smaller images were fashioned into wearable mementos: the Horblit collection includes 25 pieces of jewelry. Many portraits were tinted for increased visual appeal, and some of the prints in the collection are so enhanced with oil paints that they hardly look like photographs at all.