Bibliography
The following selected publications related to the Early Photography of Japan project are available at Harvard Library.
---
The Advent of Photography in Japan. Tokyo: Tokyo Metropolitan Museum of Photography; Hokodate, Hokkaido: Hakodate Museum of Art, 1997, 007849204.
Banta, Melissa, and Susan Taylor, eds. A Timely Encounter: Nineteenth-Century Photographs of Japan. Cambridge, MA: Peabody Museum Press and Wellesley, MA: Wellesley College Museum, 1988, 001489552.
Bennett, Terry. Old Japanese Photographs: Collectors' Data Guide. London: Quaritch, 2006, 010228383.
Bennett, Terry. Photography in Japan, 1853-1912. Tokyo; Rutland, VT: Tuttle Publishing, 2006, 010224572.
Burns, Stanley B. and Elizabeth A. Geisha: A Photographic History, 1872-1912. Brooklyn, NY: powerhouse Books, 2006, 010473458.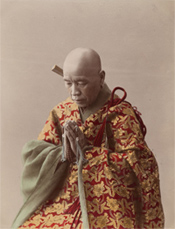 Clark, John. Japanese Exchanges in Art, 1850s to 1930s with Britain, Continental Europe, and the USA: Papers and Research Materials. Sydney: Power Publications, 2001, 010730786.
Cortazzi, Hugh, and Terry Bennett. Japan, Caught in Time. New York, Weatherhill, 1995, 006711491.
Crombie, Isobel. Shashin: 19th Century Japanese Studio Photography. With an essay by Luke Gartlan. Melbourne: National Gallery of Victoria, 2005, 012091020.
Dobson, Sebastian, Anne Nishimura Morse, and Frederic A. Sharf. Art & Artifice: Japanese Photographs of the Meiji Era. Boston: MFA Publications, 2004, 009440144.
Funkhouser, Elmer. "Nineteenth Century Japanese Tourist Photographs." Arts in Asia, vol. 26 (July/August 1996), p. 44-52, 000128408.
Gartlan, Luke. "Types or Costumes? Reframing Early Yokohama Photography." Visual Resources, vol. 22 (September 2006), p. 239-263, 000151243.
Guth, Christine M. E. Longfellow's Tattoos: Tourism, Collecting, and Japan. Seattle and London: University of Washington Press, 2004, 009501409.
Hight, Eleanor M. Capturing Japan in Ninetenth-Century New England Photography Collections. Burlington, VT: Ashgate, 2011, 012711011.
Hockley, Allen. "Cameras, Photographs, and Photography in Nineteenth-Century Japanese Prints." Impressions, vol. 23 (2001), p. 43-63, 008899807.
Hockley, Allen. "Expectation and Authenticity in Meiji Tourist Photography." In Challenging Past and Present: The Metamorphosis of Nineteenth-Century Japanese Art. Honolulu: University of Hawaii Press, 2006, p. 114-131, 009916446.

Lacoste, Anne. Felice Beato: A Photographer on the Eastern Road. Los Angeles: J. Paul Getty Museum, 2010, 012672429.
Loti, Pierre. Once Upon a Time: Visions of Old Japan. Photographs by Felice Beato and Raimund von Stillfried. Introduction by Chantel Edel. New York: Friendly Press, 1986, 000567733.
March, Philipp, and Claudia Delank, eds. The Adventure of Japanese Photography, 1860-1890. Heidelberg: Kehrer Verlag, 2002, 009023917.
Odo, David. Unknown Japan: Reconsidering 19th Century Photographs. Amsterdam: Rijksmuseum, 2008, 011745349.
Ozawa, Takeshi. "The History of Early Photography in Japan," History of Photography, vol. 5 (October 1981), p. 285-303, 006289528.
Ozawa, Takeshi. Shashin No Makuake. Tokyo: Shogakkan, Showa, 1985, 001813056.
Rousmaniere, Nicole Coolidge, and Mikiko Hirayama, eds. Reflecting Truth: Japanese Photography in the Nineteenth Century. Amsterdam: Hotei Publishing, 2004, 009539915.
Saito, Takio. Bakumatsu Meiji Yokohama Shashinkan Monogatari. Tokyo: Yoshikawa Kobunkan, 2004, 009345422.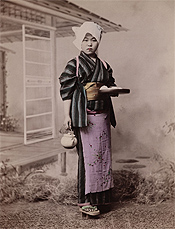 Stapp, William F. "Souvenirs of Asia: Photography in the Far East, 1840-1920," Image, vol. 37 (Fall/Winter 1994), p. 3-53, 000113367.
Tucker, Anne, Kotaro Iizawa, and Naoyuki Kinoshita. The History of Japanese Photography. New Haven, CT: Yale University Press in Association with the Museum of Fine Arts, Houston, 2003, 009019715.
Winkel, Margarita. Souvenirs from Japan: Japanese Photography at the Turn of the Century. London: Bamboo Publishing in association with Ukiyo-e Books, Leiden, The Netherlands, 1991, 002349893.
Worswick, Clark. Japan, Photographs, 1854-1905. New York: Penwick Publishing, 1979, 006954489.
Yokoyama, Toshio. Japan in the Victorian Mind: A Study of Stereotyped Images of a Nation, 1850-80. Houndmills, Basingstoke, Hampshire: Macmillan, 1987, 000561373.
Banner: Oji, Tokio (maple), photographer unidentified, olvwork553612
Menu: View of Miyajima, photographer unidentified, olvwork476973