Ernest Goodrich Stillman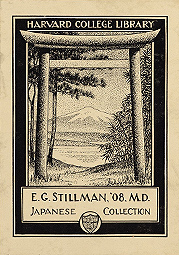 Perhaps influenced by New England travelers such as Charles Longfellow, Ernest Fenollosa, Isabella Stewart Gardner, and other noted "Japonists" who journeyed to Japan in the late 19th century, research physician and philanthropist Ernest Goodrich Stillman became an avid collector of Japanese art, literature, and photography after traveling to Japan in 1905. Most of the photograph albums selected for the Early Photography of Japan project come from the E. G. Stillman Japanese Collection, a library of more than 5,500 items he acquired over a lifetime of collecting.
Westerners who traveled to Japan during the Meiji period collected photographs for various reasons, but mostly as souvenirs to authenticate and remind them of their experiences. In this respect, commercial studio images of an idyllic "Old Japan" were much more appealing than images of a new modern Japan. In one of the albums Ernest Stillman collected, for example, the inscription inside the front cover reads: "The Old Japan as it will never appear again." These beautiful hand-colored images constitute most of the photographs in the E. G. Stillman Japanese Collection. The collection also includes albums of black-and-white snapshots that document a visit to Japan and show the country in transformation. No photographer is credited in these albums, but based on similar photographs by Stillman, "considered an expert photographer" (New York Times), and the diary he kept of his 1905 trip to Japan, it is probable that he took the photographs.
Ernest Stillman came from an affluent family. His grandfather Charles Stillman became a mercantile and industrial tycoon in the Rio Grande Valley where he founded the town of Brownsville, Texas. His father James Jewett Stillman was considered one of the wealthiest Americans of his time with vast real estate, railroad, and bank holdings in Texas, Mexico, and New York, including controlling interest in First National City Bank (Citibank) where he served as president and then chairman from 1891-1918. The Stillman family acquired even greater wealth when Ernest Stillman's sisters Sarah Elizabeth and Isabel Goodrich married the sons of Standard Oil co-founder William Avery Rockefeller Jr.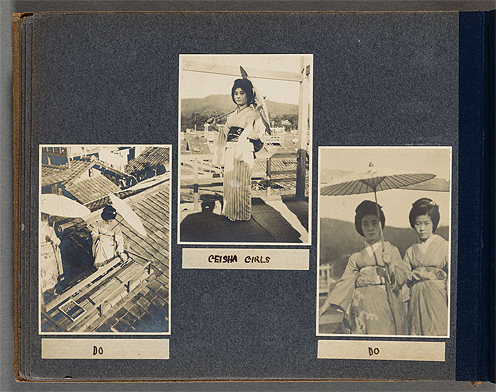 Born in Newport, Rhode Island, July 14, 1884, Ernest Stillman was the youngest of five children. After studying at the Groton School in Massachusetts, he attended Harvard College and received a B.A. degree in 1908. He married Mildred Whitney three years later before going on to Columbia University College of Physicians and Surgeons where he received an M. D. degree in 1913. He continued at Columbia for a brief time as an instructor in the Department of Pathology and as a serologist at New York-Presbyterian Hospital. In 1915, he joined the staff at Rockefeller Institute for Medical Research. Stationed there during World War I, he served as a first lieutenant in the U. S. Army Medical Corp and taught bacteriology at the U. S. Army's Auxiliary Laboratory No. 1. After the war, he remained at the Rockefeller Institute conducting research on respiratory diseases until his retirement in July 1949.
Before his sophomore year at Harvard, Ernest Stillman joined fellow students and Professor of History Archibald Cary Coolidge – who would later become the first director of Harvard University Library – on a trip to Japan. They departed from San Francisco aboard the passenger liner S.S. Manchuria on July 8, 1905. Also on board, embarking on a three-month goodwill tour of Japan, the Philippines, and China, were U. S. Secretary of War William Howard Taft and a large diplomatic delegation that included the President's daughter Alice Roosevelt and official photographer Burr MacIntosh, founder and publisher of Burr MacIntosh Monthly. After a brief stop in Honolulu, the Manchuria arrived in Yokohama on July 25. Although he was not a member of Taft's party, Stillman attended a diplomatic dinner hosted by former Prime Minister Matsukata Masayoshi for the American delegation and Emperor Meiji. Stillman then set off from Tokyo for visits to Nikko, Kobe, Kyoto, Nara, and other places during his month long stay in Japan. In the diary he kept of his travels, he wrote that he "took many pictures" and often "went shopping in curio stores."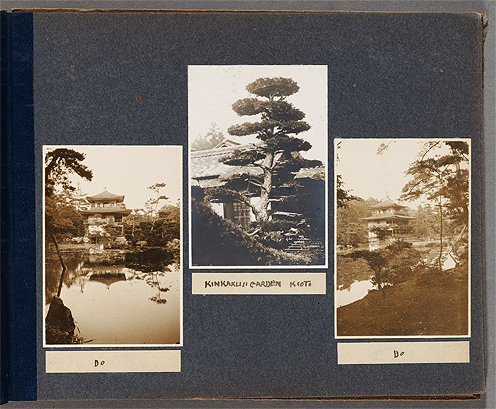 Those curio store purchases marked the beginning of what would become the E. G. Stillman Japanese Collection. Like other New England "Japonists" before him, Ernest Stillman found Japan fascinating. After he returned home, he became a member of the Asiatic Society of Japan and the Japan Society of New York, and for the rest of his life he amassed a large library of materials related to Japanese culture and history, including netsuke, original prints and paintings, books, journals, pamphlets, and photographs.
Like his father and older brother, Charles, who made many valuable donations to Harvard University, Ernest Stillman became a generous benefactor of his alma mater. Even today, the Stillman name remains noticeable around the University. A devoted conservationist, he donated Black Rock Forest, Shaler Hall, and Fisher Museum to Harvard, along with a $1.25 million endowment to support research in the study of forests. He was also active in Harvard alumni affairs and the Harvard Club of Boston and New York. Over the last 20 years of his life, he donated most of his Japanese collection to Widener Library and also served as honorary curator of the collection from 1946 until his death in 1949.
---
References
"Dr. E. G. Stillman, Researchist, Dies." New York Times, vol. 99 (Dec. 17, 1949), p. 17.
Harvard College Class of 1908. Secretary's Report. 1920.
Harvard University. Report of the president of Harvard College. Cambridge, MA: Harvard University, 1949.
Hight, Eleanor M. Capturing Japan in Ninetenth-Century New England Photography Collections. Burlington, VT: Ashgate, 2011.
Kahn, Joseph F. "Selling a Piece of the Rock." The Harvard Crimson (Nov. 7, 1985), accessed October 2011.
Looking East: William Howard Taft and the 1905 Mission to Asia, the Photographs of Harry Fowler Woods, accessed October 2011.
Stillman, E. G. Diary. 1905.
Banner: Oji, Tokio (maple), photographer unidentified, olvwork553612
Menu: View of Miyajima, photographer unidentified, olvwork476973