Japan: Described and Illustrated by the Japanese
In 1896, Tamamura Kozaburo, a highly successful commercial photographer in Yokohama, received an order from a Boston publisher for what eventually would lead to the production of more than one million hand-colored albumen prints. At a time when most publishers were using illustrations made by cheaper and faster photomechanical processes such as collotype or halftone, J. B. Millet Company used original photographs to illustrate no less than 16 different folio editions of the multi-volume Japan: Described and Illustrated by the Japanese published between 1897 and 1898. The publisher limited the most exclusive editions to 25 sets, available by subscription only, with larger editions numbering 750 to 1000 sets.
As stated on the title page, Japan: Described and Illustrated by the Japanese was "Written by eminent Japanese authorities and scholars" and edited by Captain Francis Brinkley. It also includes an essay on Japanese art by Okakura Kakuzo, a student of Ernest Fenollosa and the first curator of Asian art at the Museum of Fine Arts in Boston. The Japan volumes offer a detailed description of the history and culture of Japan. They cover a wide range of topics, including marital and family relations, women in Japan, art and literature, religion, customs and traditions, crime, commerce, and politics. Typical of Meiji era Japanese tourist photography, the hand-colored photographs show city views, architecture, historic sites, landscapes, genre scenes, and portraits of Japanese people. The extraordinary number of original photographs used in the total number of sets of all the various editions make this one of the most ambitious and remarkable achievements ever in the history of 19th-century photographic publishing. As Denise Bethel, director of the Photographs Department at Sotheby's in New York, observed, "[It] may be the last great book to be illustrated with original photographs." (Bethel, p. 13)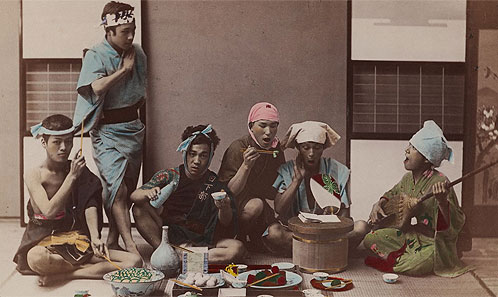 The key figures in this undertaking included a Boston publisher, an expatriate Irishman, and a Japanese photographer. Harvard graduate Josiah Byram Millet (1853-1938) founded his publishing company in 1890, and like many in the Boston area, he became interested in Japan, learning to speak the language and developing close connections to many Japanese statesmen, scholars, and businessmen. He conceived the idea for Japan: Described and Illustrated by the Japanese and used his connections to secure financial backing for the project from the Japanese government.
Born in Ireland and educated at Trinity College in Dublin, Captain Francis (or Frank) Brinkley (1841-1912) traveled to Japan in 1867 as a commander in the Royal Artillery, never to return home. He became the owner and editor of the Japan Mail, the most influential English language newspaper in the Far East, and his Japanese-English dictionary published in 1896 became the standard reference of its time. Brinkley organized and translated the contributions by Japanese scholars to the Japan volumes.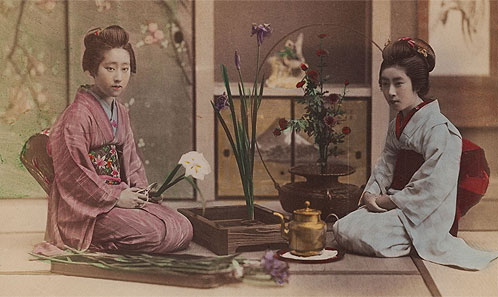 Although none of the photographs in Japan: Described and Illustrated by the Japanese are credited with the name of a photographer or studio – except for the collotype still lifes of flowers by Ogawa Kazumasa – it is known from newspaper reports and other sources that Tamamura Kozaburo was commissioned by the J. B. Millet Company to supply all of the hand-colored albumen prints. Regarded as an originator of "Yokohama shashin" or Yokohama-style photography for tourists, Tamamura became one of the most successful and popular commercial photographers in Japan. He sold souvenir photograph albums to foreigners and acquired profitable commissions from various organizations, including the J. B. Millet Company.
Overwhelmed by the size of the order, Tamamura Kozaburo reportedly employed more than 350 assistants to help with the printing and coloring. He also called on other Yokohama photographers to supply images in addition to his, including Ogawa Kazumasa, Kusakabe Kimbei, and T. Enami (Enami Nobukuni). Through extensive research, photograph historian Rob Oechsle has identified almost 50 photographs by Enami used in the Japan volumes. To date, this constitutes the largest number of images positively attributed to a contributing photographer.
---
Imperial Edition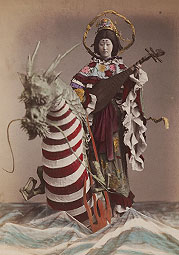 The 10-volume Imperial edition of Japan: Described and Illustrated by the Japanese in the Fine Arts Library at Harvard University is one of the "better" sets. Limited to 100 numbered copies, the Fine Arts Library copy is number 31. It was "imported and printed" for Alexander S. Porter, a prominent Boston real-estate agent who conceived the plan for the Boston Stock Exchange and was instrumental in funding its construction in 1891 at State and Congress streets.
Each volume of the Imperial edition is bound in decorated silk brocade with silk cords and tassels. Overall, this edition includes 60 large format hand-colored albumen prints mounted in window mats; 200 small format hand-colored albumen prints mounted on the text pages; 1 platinum print photographic reproduction of an 1888 portrait of the Emperor Meiji by Italian painter Eduardo Chiossone; 10 hand-colored collotypes of flowers by Ogawa Kazumasa, each mounted in a window mat; 10 xylograph (woodblock print) reproductions of Japanese paintings, mounted in window mats (of which three are missing from the Fine Art Library's edition); and 20 examples of original Japanese artworks.
---
Resources
Bennett, Terry. Photography in Japan, 1853-1912. Tokyo; Rutland, VT: Tuttle Publishing, 2006.
Bethel, Denise. "The J. B. Millet Company's Japan: Described and Illustrated by the Japanese." Image, vol. 34 (Spring/Summer 1991), p. 3-21.
Funkhouser, Elmer. "Japan: Described and Illustrated by the Japanese." Arts in Asia, vol. 29 ( March/April 1999), p. 133-138.
Oechsle, Rob. T-Enami.org, accessed September 2011.
Banner: Oji, Tokio (maple), photographer unidentified, olvwork553612
Menu: View of Miyajima, photographer unidentified, olvwork476973