Japanese Tourist Photography
Photography did not come to Japan until almost 10 years after its invention. In 1848, a Nagasaki merchant, Ueno Shunnojo, imported the first daguerreotype camera through the Dutch trading post of Deshima. Photography developed slowly in Japan because of the technical demands, lack of instruction, and difficulty in obtaining the necessary equipment and supplies. The oldest surviving photographs are those daguerreotypes taken by Eliphalet M. Brown Jr., official photographer to Commodore Matthew Perry during his 1853-1854 expedition to the Far East, but no existing photograph by a Japanese photographer can be dated before 1857. (Bennett, p. 24) It was not until the wet collodion process replaced the daguerreotype and the Tokugawa shogunate came to an end that photography began to thrive as a commercial industry in Japan.
After the last shogun, Tokugawa Yoshinobu (1837-1913), resigned and announced the restoration of imperial rule in 1867, the Emperor proclaimed a new era of Meiji (enlightened rule).  This marked a period of significant reform and modernization in which Japan transformed from a feudal society to an industrial and military world power. Photography became "firmly and explicitly connected to the process of industrialization and the building of a modern Japanese nation" during the Meiji period (1868-1912). (Odo, p. 25)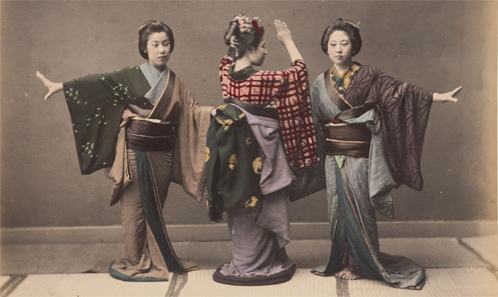 After the establishment of the Meiji government, travel restrictions were eased and foreign tourists flocked to Japan. Photographs became popular souvenirs and a prosperous market emerged for Japanese tourist photography. Ironically, these world travelers – including many notable Americans from New England – were more interested in traditional Japanese culture than the dramatic transformation of Japanese society that was taking place around them. They collected photographs not only to preserve their experiences of Japan but also to document a culture and way of life they believed was fading away with Japan's efforts to modernize.
This fascination with Japan, or "Japonism" as it was called then, was especially prominent in the Boston area where Japonists such as Charles Longfellow, William Sturgis Bigelow, and Isabella Stewart Gardner returned home with thousands of photographs. Many of these ended up in museum and archival collections throughout the Boston area, including the Museum of Fine Arts, Isabella Stewart Gardner Museum, Peabody Essex Museum, Wellesley College Museum, and Longfellow House. Various repositories at Harvard University also acquired many of these Japanese tourist photographs, including Widener Library, Yenching Library, the Fine Arts Library, and the Peabody Museum of Archaeology and Ethnology.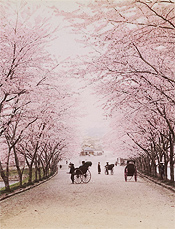 Why did travelers from the West prefer photographs that portrayed the traditional rather than the changing Japan? Japanese tourist photographs "enabled Westerners to control how they pictured this newly discovered place." (Hight, p. 1) For many tourists, Japan offered an escape from modern industrial society to a more idyllic society rooted in traditional culture. They wanted images that confirmed romantic visions of Japanese history and culture, "and held their interest as a contrast to their own cultural environments." (Odo, p. 24) They wanted images of Mount Fuji, cherry blossoms, Buddhist temples, Shinto shrines, samurai, and geisha – not images that reminded them of home.
When the famous war photographer Felice Beato arrived in Japan in 1863, he established one of the earliest commercial photography studios in Yokohama where he marketed his views of Japan and Japanese people to Westerners. Beato greatly influenced the early photography of Japan. He popularized what became the most distinguishing characteristics of Japanese tourist photography, the practices of hand coloring photographs and mounting them in albums. The largest market for these photographs developed and flourished in the treaty port of Yokohama where prominent photographers such as Tamamura Kozaburo, Kusakabe Kimbei, and Ogawa Kazamasu followed in Beato's footsteps.  As a result, Japanese tourist photography also became known as "Yokohama shashin" or Yokohama-style photography.
Typically, Japanese tourist photographs were hand-colored albumen prints mounted in albums that commonly held 25, 50, or 100 prints. The most popular photographs were large format, measuring around 19 x 26 cm. Many albums were sold already assembled with a standard selection of images. These might all be from one photographer's studio or a selection compiled from different studios. Customers could also visit a studio or shop and choose images that more closely portrayed their travel experiences. If they could not travel to Japan, they could look through a dealer's sample book and order images by the studio or catalog number. From about 1876 on, nearly all photographs included a studio number and a brief caption, usually printed at the bottom. Printed captions included words in both English and Japanese romaji, with variations in spelling from one studio to another.  Some tourists (E. G. Stillman, for example) wrote their own captions. Albums were most often bound in leather, silk brocade, or – the most expensive and desirable choice – lacquer boards. In 1872, an album with 50 hand-colored prints from the studio of photographer Baron Raimund von Stillfried cost $48, a steep price marked for the tourist market.
A Note About Attribution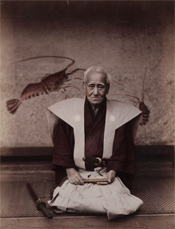 For various reasons, it is often difficult to identify early Japanese photographers. Many Japanese tourist photographs do not include photographer credits. Studios and shops frequently produced albums using the work of various photographers without attribution and without using the original captions or studio numbers. "In his early career, Kusakabe was not averse to acquiring negatives of other photographers and reproducing prints from them as part of his portfolio. This is why his albums contain the work of artists such as Uchida, Beato, Stillfried, and Yamamoto." (Bennett, p. 205)
Another difficulty in attribution comes from the widespread practice of selling negatives from one to studio to another. In 1877, the company of Stillfried and Anderson acquired Felice Beato's studio and stock. They subsequently incorporated Beato's negatives into their own, which Adolfo Farsari then acquired in 1885. Some of these photographs also appeared in albums produced by Kusakabe Kimbei. When one studio acquired the negatives of another, it also acquired the right to make a print from that negative and include it in an album bearing the studio's name.
In Photography in Japan, 1853-1912, Terry Bennett argues convincingly about the importance of identifying who took a photograph and learning about the photographer to achieve a better understanding of the history of photography in Japan and of the country itself. "Doing so can tell us much about a photograph that might otherwise afford little or no information." (p. 12) Knowing who took a photograph can dramatically change its meaning and value. Many of the Japanese tourist photographs and albums included in the Early Photography of Japan project bear no information concerning the photographer or studio. Comparing these photographs with similar photographs in other collections can possibly help resolve some issues of attribution.
---
Resources
Bennett, Terry. Photography in Japan, 1853-1912. Tokyo; Rutland, VT: Tuttle Publishing, 2006.
Dobson, Sebastian, Anne Nishimura Morse, and Frederic A. Sharf. Art & Artifice: Japanese Photographs of the Meiji Era. Boston: MFA Publications, 2004.
Hight, Eleanor M. Capturing Japan in Ninetenth-Century New England Photography Collections. Burlington, VT: Ashgate, 2011.
Odo, David. Unknown Japan: Reconsidering 19th Century Photographs. Amsterdam: Rijksmuseum, 2008.
Winkel, Margarita. Souvenirs from Japan: Japanese Photography at the Turn of the Century. London: Bamboo Publishing in association with Ukiyo-e Books, Leiden, The Netherlands, 1991.
Worswick, Clark. Japan, Photographs, 1854-1905. New York: Penwick Publishing, 1979.
Banner: Oji, Tokio (maple), photographer unidentified, olvwork553612
Menu: View of Miyajima, photographer unidentified, olvwork476973