Introduction
"To raise monuments more durable than brass, and more conspicuous than pyramids, has been long the common boast of literature."
The Rambler, No. 106
---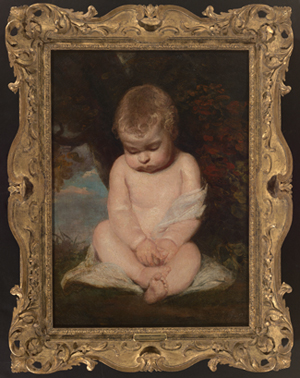 In April 1940, a recently married Mary Hyde gave her husband Donald first editions of Samuel Johnson's A Dictionary of the English Language and James Boswell's The Life of Samuel Johnson, LL.D. Over the next sixty years, the Hydes (and, after Donald's death in 1966, Mary herself) assembled the premier collection on the life and work of Samuel Johnson, and that of his circle of associates in eighteenth-century Great Britain. Since the collection was bequeathed to Harvard University in 2003, the staff of Houghton Library has been working to preserve, catalogue, digitize, and expand the collection. Now, on the 300th anniversary of Samuel Johnson's birth, the library is pleased to present a comprehensive exhibition of the treasures it contains for the first time in more than forty years.
Samuel Johnson (1709-1784) is widely known for his Dictionary (1755), but was a writer of the first order in a dazzling variety of genres: poetry, drama, literary criticism, biography, and the essay. As recorded in Boswell's Life (1791), Johnson was eighteenth-century London's greatest conversationalist, and surrounded himself with many of the leading lights of his age, including Sir Joshua Reynolds, David Garrick, Oliver Goldsmith, and Edmund Burke.
The Hyde Collection contains copies of virtually all of Johnson's published works, more than half of his surviving letters, authorial manuscripts, works of art, and personal artifacts. It likewise documents the life and work of many of Johnson's friends, particularly James Boswell and Hester Thrale Piozzi, and indeed the whole of the period now known as the Age of Johnson.
In the essay from The Rambler quoted above, Johnson observes that libraries often serve to display the vanity of intellectual endeavor, preserving the works of authors once lauded but now relegated to obscurity. In Johnson's case, nothing could be further from the truth. Three centuries after his birth, Johnson continues to be the subject of intense scholarly examination, and the Hyde Collection provides an enduring monument to his genius.