Introduction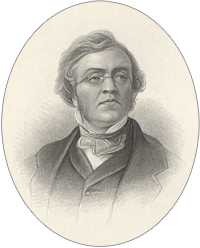 William Holl's engraving of Thackeray, 1860s. Portrait File. Source unknown.
"A man's books may not always speak the truth,
but they speak his mind in spite of himself"
– William Makepeace Thackeray, "Nil Nisi Bonum" (1860)

his exhibition seeks to re-introduce readers to a man who was once one of the most celebrated British writers. Now largely forgotten, Thackeray's name may be recognized only for his most major novel, Vanity Fair. Thackeray's output, encompassing numerous novels and shorter works of fiction, scores of essays, articles, drawings, and other work, is much wider than Vanity Fair. In honor of the bicentenary of Thackeray's birth, this exhibition displays material from the Houghton Library's vast collection of Thackeray's books, manuscripts, correspondence, drawings, and other material. Together with items leant from private collections, they provide insight into Thackeray the devoted son, affectionate father, and loyal friend, in addition to the literary celebrity.
---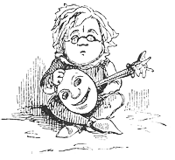 Thackeray. Self-portrait
from Vanity Fair, 1848. *EC85.T3255.848v (A)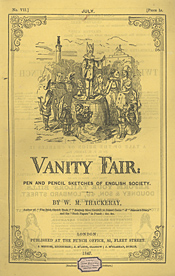 Cover of the first number of
Vanity Fair, July 1848.
*EC85.T3255.848v (A).
A major undertaking such as this is not a solo enterprise.  I am immensely grateful to Curator of Modern Books & Manuscripts Leslie A. Morris, who offered guidance, counsel, and support.  I am also indebted to Carie McGinnis, Susi Barbarossa, Dennis Marnon, Peter Accardo, Mary Haegert, and Monique Duhaime at the Houghton Library. Special thanks to the donors of the Class of 1952 Fund, for providing extra financial support towards research for the exhibition and the exhibition itself. The Morgan Library and Museum graciously lent us Thackeray's manuscript of Vanity Fair, one of the highlights of this exhibition.And finally, thanks to a number of private donors, who in addition to being excellent hosts, generously shared letters, drawings, and objects of Thackeray's with which to enrich the exhibition.
-Heather Cole, Assistant Curator of Modern Books & Manuscripts