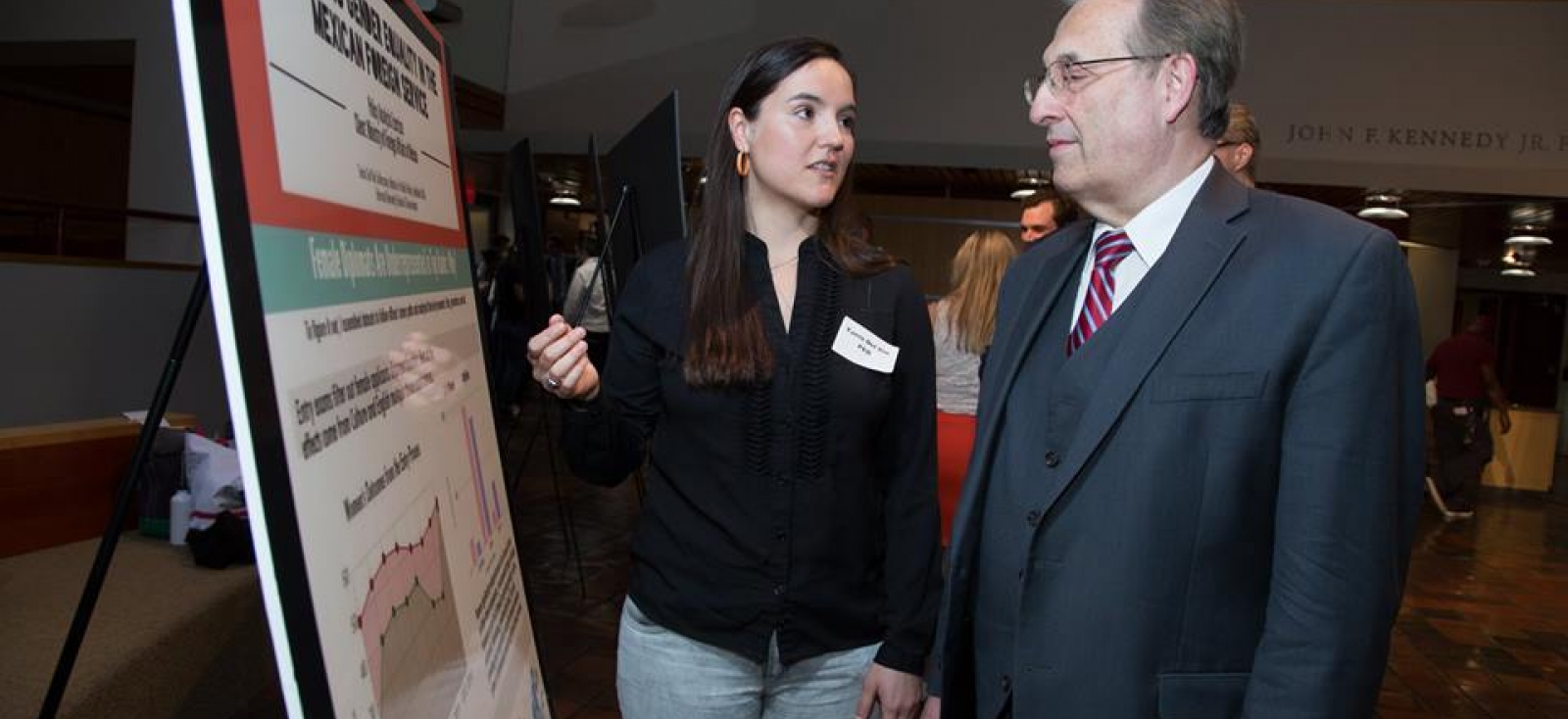 After four years at the Mexican Embassy in Colombia, Tania Del Rio, MPP '16, was burned out. She loved her job there, but she was frustrated and couldn't see a reason for it. It wasn't until she began the Master in Public Policy Program at the Harvard Kennedy School that she began to understand why. 
Around 250 students from all over the world enroll in the Master in Public Policy Program each year. For their capstone assignment, called the Policy Analysis Exercise (PAE), each one must partner with the government agency, nonprofit, or business of their choice to solve a compelling real-world problem. 
Del Rio chose to study underrepresentation of women at the highest levels in the Mexican Foreign Service. The agency couldn't figure out why it was happening, but wanted to correct its gender imbalance to reach a target goal of 50% women in the highest ranks — Ambassador and Minister — as well as shift the culture of the organization to understand and recognize the value of gender equality.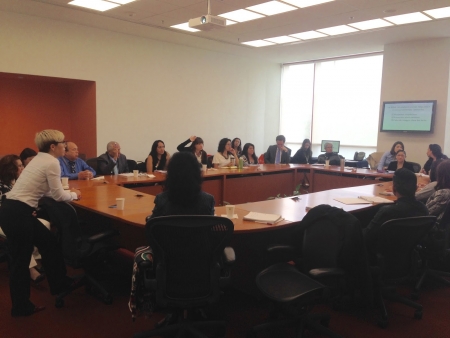 As Del Rio collected data and spoke to women at all levels of the organization, she discovered why she had felt so burned out: Gendered obstacles affecting women had negative consequences for everyone, leading to disparities in recruitment, promotion, and levels of attrition. Del Rio's work in the Women and Public Policy Program gave her the tools she needed to dig into the stories behind the data. "I became aware of the problems I faced and that they were fixable," she said. 
She found a substantial gender gap in the entrance exam: more men than women were advancing to the second part of the test, even though more women were taking it. As she continued digging, she realized that the Foreign Service would have to take a second look at its test questions to root out bias. She also began to see disparities in the jobs people were assigned and the system of points that determined promotions. Women were assigned to jobs with less responsibility, leading to fewer points. They were also discouraged from applying to hardship posts — assignments in more dangerous parts of the world — which were worth more points. To make up for this, they would often pursue extra educational opportunities, which involved more work in addition to their full-time jobs and, for some, family responsibilities. She was proving with numbers what she felt in her own life and was hearing anecdotally — women were not rising as fast as their male colleagues.
At first, Del Rio had to seek out women to speak with. As her project gained momentum, women reached out to her. They didn't have the space to talk about their experiences, and her research became an outlet for these concerns. Del Rio's recommendations — including evaluating each applicant's performance by gender on test questions to find possible bias, providing better test preparation to everyone, recruiting more women to hardship posts, and launching a long-term sponsorship program for women — are now included in the official training manual for the Mexican Foreign Service.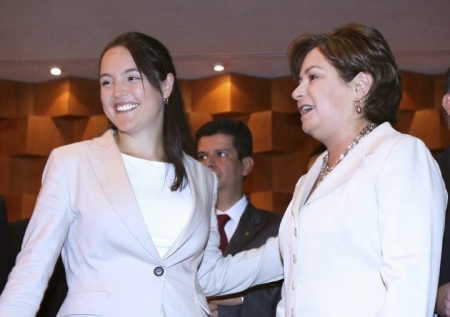 She used her capstone exercise to unpack the problem with her advisers, Hannah Riley Bowles, senior lecturer in public policy, and Ryan Sheely, associate professor of public policy. Sheely has led the Policy Analysis Exercises for five years. 
"You see the impact that it's having," he said. "Students take elements of structure, approach, and methodology and add a tremendous amount of creativity and inspiration." Teaching the PAE has shaped his own work as well: Sheely is currently writing a book that includes many former students' analyses as case studies. 
PAE projects range from scaling up food storage technology in Uganda to assessing children's mental health in Massachusetts. The scope of the diverse challenges demands a unique approach to research. Partnering with a librarian can help many students make the most of their time, and HKS librarian Valerie Weis visited the class to answer questions and offer guidance on how to use resources.

"People say all the time, 'I wish I had talked to librarians earlier,'" said Janina Matuszeski, lecturer in public policy. Librarians can help students frame questions and make connections with subject experts specializing in different regions and countries across campus and the world. Consultations can range from basic literature review support to identifying sources of data and instruction in research methods. 
Many students haven't worked with research librarians before and didn't realize how much time they can save by meeting for just a few minutes. Weis shared a story of a frustrated student considering dropping a class because she couldn't find any information on her topic. Weis showed the student sources she hadn't found and taught her how to navigate library databases using keywords. By the end of the meeting, the student was excited about moving forward with her topic — and staying in the class. 
"Knowing that I made a difference in the decision to stay was truly gratifying," Weis said.
Kelly Lugbill Clark, MPP '18, sought out Weis for assistance when she began her PAE with Emerging Public Leaders, a program created by President Ellen Johnson Sirleaf of Liberia that aims to bring talented youth into government service to help build trust in civic life. Weis showed Clark how to use databases to fill in the gaps of her international research in Uganda and South Africa. When different avenues of Clark's independent searching turned up with little results, Weis's knowledge was a "security blanket," Clark said. "She was a crutch when I didn't have the expertise."  

HKS librarians have seen a significant increase in student consultations as a result of continuous outreach and collaboration with the MPP program. "Students need to hear about what we have to offer when they really need it," said HKS librarian Linda Rosen. Weis added that it was rewarding to see students gain confidence in their research skills. "After a research consultation, the student's attitude is completely transformed. The student walks out of my office feeling empowered and optimistic about conducting research for that assignment and also for future projects." Changing assumptions and attitudes connects library research with the skills students develop in the field as part of the PAE and carry forward into their careers.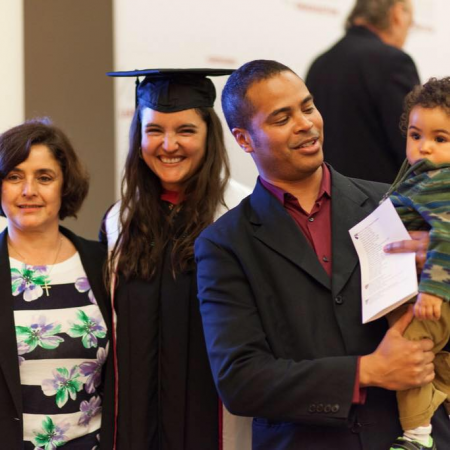 Del Rio no longer feels stuck. Her research findings from the Policy Analysis Exercise inspired her to change careers and focus on issues of diversity and inclusion. She is now the Executive Director for the Mayor's Office of Women's Advancement, working to make opportunities equally available to all women and girls in Boston.