How it works
See something you need in our catalog (HOLLIS) or in a Finding Aid? Ask us for a digital copy. 
Many things from our collections are already digitized, so if we already have it, we'll send you a PDF. Things that have not yet been digitized, including special collection items, we can scan and send you a copy.
Request within HOLLIS - Use the "scan and deliver" request link on the HOLLIS item record. Eligible items will have the link appear in the "Get It" section of the item record. Scans are delivered via email and remain available for download for 30 days. You can manage your requests and access scans (for 30 days) from your Scan & Deliver account. 
Request within HOLLIS Special Request - For items in our special collections, use your HOLLIS Special Request account. Click "Copy Request" and fill out the required fields, -OR-
Email the library or archive - For special collection items or non-circulating materials, you can also email the holding library or archive. If you're not sure who holds it, start with Ask a Librarian and we'll get you to the right place. 
Who is eligible
Scan & Deliver is available to Harvard students, faculty, fellows, and staff.
Non-Harvard affiliates, including researchers and members of the public, may submit requests for materials to be digitized. Imaging Services staff will determine whether the material can be digitized. Fees may be assigned based on the size and complexity of the request.
Delivery time
General items | 4 business days
Scans from HOLLIS are processed by our Access Services department and typically sent to you within two business days of request.
Special collection items | 1-4 weeks
Special collection items may be scanned by the holding library or archive, or they could be sent to our Digital Imaging department, depending on the complexity of the request. Scanned PDFs are typically sent within one month of receipt. If you need an item expedited, please include that information in your request.
Fees
For special collection items over 100 pages, we may assess a fee. All digitized materials will be sent to the requestor and will be added to our digital repository for public use. Non-Harvard affiliates will also be charged a digitization fee.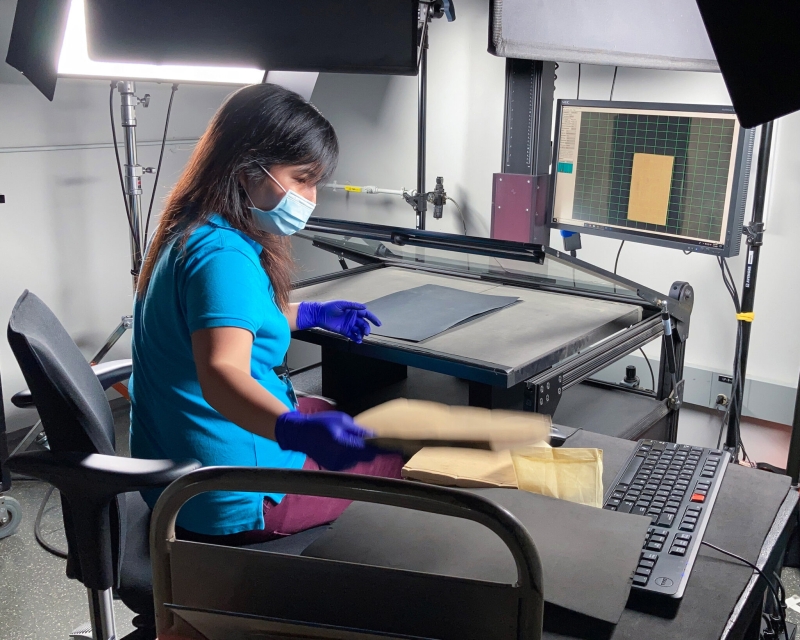 What you can get
Request materials from our libraries, including special collections and archival material, and we'll digitize and send them to your inbox.
As part of your request, you can ask that title pages, covers, and other identifying information from the book also be included in the scan.
Items you can request include:
journal articles (two per issue) 
book chapters (two per book, not exceeding 20% of the work)
special collection items
Copyright
The purpose of the Scan & Deliver service is to provide library users with a copy of the requested material for personal use.
In providing this service, we must also follow relevant copyright laws. 
We legally can't fulfill requests for:
More than two articles or other contribution to a periodical or copyrighted collection
More than two chapters or other small part of any other copyrighted work
The service can only be used for isolated and unrelated reproduction of a single copy of the same material on separate occasions. It can't be used for the related or concerted reproduction of multiple copies of the same material—whether made at one time or over a period of time, and whether for use by one person or multiple people.
If a library questions whether a request complies with these requirements, the request will be sent to a librarian for consultation before a decision is made whether to fill the request.
Special collections
But what if the materials you need seemingly can't be scanned or you're not sure exactly what you need to see? Don't worry, we've got you covered.
From creating PDFs and offering one-on-one virtual sessions with our staff to new technologies and services, our librarians and archivists are committed to making sure you have access to the material you need. Just make a request, and we'll be in touch with a solution.
What to know before placing your request:
Students are encouraged to submit requests. Priority is given to materials being used to teach or are part of a dissertation.
All high-quality scans will be added to our public repository. Whether you pay for it or not, when we create a high-quality scan (that meets long-term digital preservation standards) of public domain materials outside of copyright restrictions, we add the item to our digital repository so the public can access it too.
Special and fragile items take longer. Talk with a librarian about how you want to use the item and they can help guide you through the process. They can also point you towards additional sources and materials. 
Requests over 100 pages may come with a fee. While we try to waive this for students and faculty, there may be occasions when this is necessary. After you submit your request, we'll email you an estimated cost for your review.
Microform
Through Scan & Deliver, we can also provide remote access to our microform collections. Place your request through HOLLIS, and we'll determine the best solution for your needs.
For single articles or shorter requests, we'll email you a digital copy.
For longer requests, or if you need to review multiple reels, we may be able to set up a remote-viewing session.