CAMBRIDGE, MA— To celebrate the acquisition of the archive of influential Greek poet and lyricist Nikos Gatsos (1911-1992), the Harvard Library is bringing "The Gatsos I Loved: A Concert" from Greece to Cambridge for one show only: Sunday, October 14, at 4:00 PM at Sanders Theatre, Harvard University.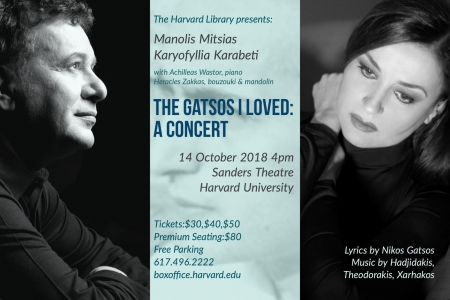 This exceptional program celebrates the poet's enduring legacy to Greek and world culture in this singular US performance. Acclaimed Greek singer, Manolis Mitsias, and renowned actress, Karyofyllia Karabeti—together with Achilleas Wastor on piano and Heracles Zakkas on bouzouki and mandolin—will perform the best-loved music of Manos Hadjidakis, Mikis Theodorakis, and Stavros Xarhakos with lyrics by Nikos Gatsos. This is a unique opportunity to see four of Greece's most outstanding performing artists on a local stage presenting some of the most important and popular music of the 20th century. 
Tickets are $30, $40, $50, and $80 for Premium Seating. Free parking is included at the Broadway Garage. Tickets are on sale now at the Harvard Box Office (617-496-2222).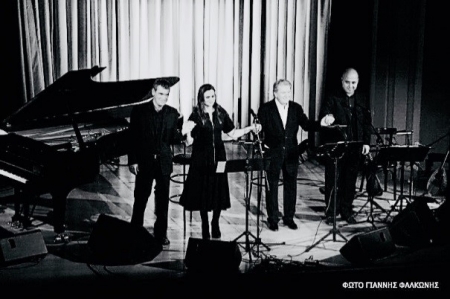 This event is made possible with the generous support of the Harvard Library, the Harvard Center for Hellenic Studies, the Gerondelis Foundation, and the Merriam Family Fund in honor of the Kalambaka Library.   
###