What do Hillary Clinton, Buckminster Fuller, Ruth Bader Ginsburg, Buffy Sainte-Marie, and Saul Bellow have in common with notable Harvard faculty like sociologists Talcott Parsons and Daniel Bell, Nobel Prize-winning economist Wassily Leontief, social theorist and anthropologist Clyde Kluckhohn, and developmental psychologist Carol Gilligan? Aside from being preeminent figures in their respective professions, each also participated in the program of intellectual and cultural exchange known as Salzburg Global Seminar.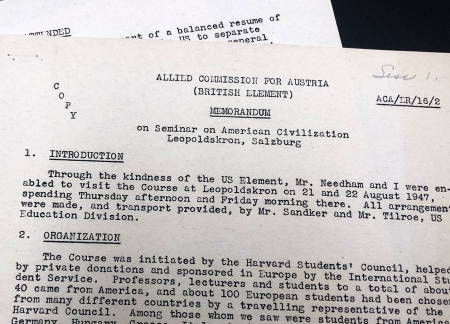 After nearly a decade of discussion and negotiation, led by Associate University Archivist for Collection Development and Records Management Services Virginia Hunt, the Harvard University Archives has partnered with Salzburg Global Seminar to permanently house and make available for research the extraordinary historical records of this unique international organization.
Initially known as the Salzburg Seminar in American Civilization, the organization has, since 1947, brought together more than 37,000 scholars, artists, and policymakers, from more than 170 countries, to exchange ideas and foster international cooperation in the realms of economy, government, public health, and the arts, among others.
From Harvard to Salzburg
The agreement between the Harvard University Archives and Salzburg Global Seminar builds on a relationship between the two institutions that began more than 70 years ago. Shortly after the end of World War II, three Harvard men — PhD candidate in history Clemens Heller, college senior Richard "Dick" Campbell, Jr., and English instructor Scott Elledge — had the vision to rebuild Europe by pursuing a "Marshall Plan for the Mind." Where Marshall saw economic aid as the vital force for rebuilding war-torn Europe, the young founders understood the importance of strengthening and supporting intellectual and cultural ties between Europeans and Americans. With this ambitious idea, Salzburg Global Seminar was born.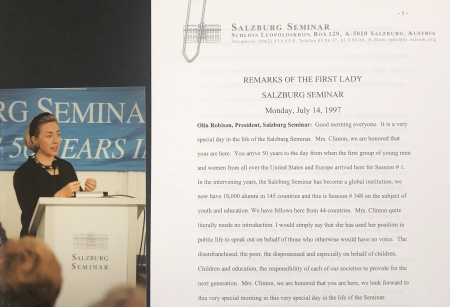 Salzburg Global's archives will engage researchers and students interested in global intellectual and cultural history. Beginning in 1947 and running through 2012, the records follow leading scholars, artists, and policymakers through decades of decision-making and theory-crafting in a world that was not only radically changed by World War II, but continued to change at a relentless pace.
The arrival of Salzburg Global's records to Harvard is not simply a recognition of the historical link between the two institutions — just as importantly, the agreement signals a rich future for innovative research in the Archives' extensive collections of personal papers of Harvard faculty members, many of whom participated in Salzburg Global Seminar's programs as fellows or faculty. When consulted alongside existing faculty collections, the records of Salzburg Global Seminar will shed new light on the scholarship and work of dozens of scholars from 1947 to the present. Among the most prominent Harvard scholars who participated in Salzburg Global's programs are sociologist Daniel Bell, political scientist Samuel P. Huntington, anthropologist and social theorist Clyde Kluckhohn, Nobel Prize-winning economist Wassily Leontief, sociologist Talcott Parsons, and Radcliffe College President Matina Horner. The intellectual and professional lives of each of these — and many others — are documented in records accessible in several institutional archives and special collections repositories at Harvard, including the Harvard University Archives, Schlesinger Library, Baker Library at Harvard Business School, and the Harvard Law School Library.
Access to this large collection will be limited in some cases until it is processed and there are restrictions in place, yet the Harvard University Archives and Salzburg Global are both eager to invite researchers into these records and anticipate that permission for research will be granted in many cases. During this initial phase, if you are interested in learning more about the collection or requesting permission to access, you can contact Virginia Hunt, Associate University Archivist for Collection Development and Records Management Services, at virginia_hunt@harvard.edu or 617-495-3240.
Salzburg Then and Now
The collection provides critical insight into intellectual currents and cultural developments on a global scale and also tracks the establishment, growth, and change of Salzburg Global Seminar as an institution. As a program designed to bridge political and cultural divides between nations, Salzburg Global faced numerous logistical challenges, including connecting scholars from behind the Iron Curtain to their peers in Western Europe and the Americas.
One scholar who has worked previously with the early records of the organization, George Blaustein (GSAS PhD 2010), had unprecedented access to the collections while completing his dissertation in the History of American Civilization. Blaustein, now a professor of American Studies and History at the University of Amsterdam, is one of only a handful of researchers who have worked with the materials to date. When asked about how Salzburg Global's records helped him understand the American scholars and intellectuals he studies, Blaustein remarked: "The Salzburg Seminar became a sort of hub — sometimes a figure had spent a year there, and while the material directly related to Salzburg was interesting, their having been in that environment at a particular time allowed me to illuminate some aspect of their life and thought." Now that the records will be available more widely, Blaustein notes that they would be especially useful for scholars focused on "cultural diplomacy, the cultural cold war, transatlantic relations, and transnational institutions," among other topics.
While Salzburg Global Seminar has its roots in a particular historical moment, and was initially an international venue enriching viewpoints on the new field of American Studies, it has continued operations to the present day and expanded its focus significantly. Today, Salzburg Global Seminar coordinates programming around many themes, among them "Finance & Government," "Justice & Security," "Planet & Health," "Culture & Society," "Education & Work," and "Media & Voice." The thematic breadth of the records reflects the nonprofit organization's focus on addressing global problems in all their complexities.
From Salzburg to Harvard
The arrival of the Salzburg Global collection in Massachusetts caps a process that began nearly a decade ago. In 2010, the late Herbert P. Gleason, considered the "Fourth Founder" of Salzburg Global Seminar for his long involvement, and a Harvard alumnus (Harvard College, 1950; Harvard Law School, 1958), contacted the Harvard University Archives to begin discussions about Harvard possibly taking on responsibility for storing and making accessible the rich collections of Seminar records. For Gleason and other Salzburg Global Seminar affiliates, this was understood as a homecoming for the collections: the official record of the organization would return to the institution that was instrumental in its founding and early years and also provided a consistent stream of world-class faculty to participate in the programming year after year.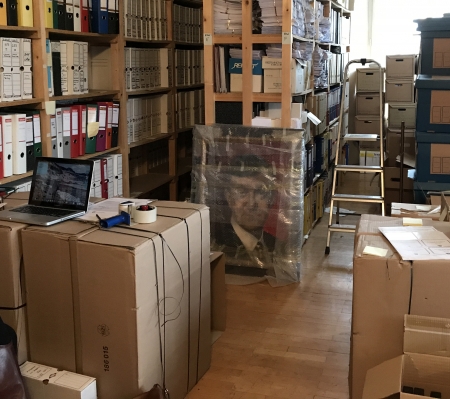 At Harvard, Associate University Archivist Virginia Hunt was immediately intrigued by the proposal. She traveled to Middlebury, Vermont, in early 2011 to discuss the records with staff at one of Salzburg Global's US-based offices. Those discussions led to Hunt traveling to Salzburg in 2017, where she spent a week at Schloss Leopoldskron, the rococo palace that has housed Salzburg Global since its inception. At the Schloss, Hunt worked with Salzburg Global staff and interns from Simmons University in Boston to begin surveying, organizing, and packing the records for shipment to the United States. By early 2018, the records — an estimated 350 linear feet of them, packaged in more than 250 shipping boxes — crossed the Atlantic by boat and arrived in Cambridge, where Harvard University Archives staff began the process of accessioning them.
The arrival of the records in Cambridge does not mark the end of the story of the long-held connection between Harvard and Salzburg. Hunt continues to work with Salzburg Global Seminar to implement a records management policy for the institution, and the ongoing work of Salzburg Global will eventually become part of the historical collections available to researchers at the Harvard University Archives.
###