It's been quite a year – and not, generally, in the positive sense of that phrase. But we at Harvard Library have been lucky in many ways. Working for a library keeps us connected to institutional, national, and global history, which often provides much-needed perspective on the present. And working for an academic library keeps us connected to an inspiring community – of teachers, students, researchers, and staff – both within and outside Harvard.
This year I've learned a few of Harvard's lesser-known histories; had some especially meaningful exchanges with our users; and discovered fascinating, strange, and funny items in our collections.
So, as we approach the darkest day of what has been a pretty dark year, here are some of Harvard Library's bright spots of 2020.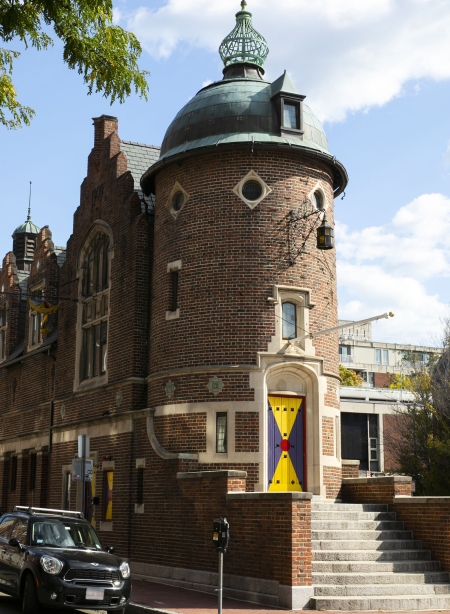 Vellucci's Vendetta
While researching some of the iconic buildings on Harvard's campus for a 'Then and Now' photo series, I discovered a vehement loathing of the Harvard Lampoon 'Castle' by former Cambridge mayor Alfred Vellucci. The photo series includes a line about Vellucci's hatred of the building, but his (hilarious) vendetta deserves a story of its own – which it actually got, in a 1963 Crimson article.
According to the Crimson, members of Harvard's humor society the Lampoon proposed at a city council meeting on February 12, 1963, that the square where the building sits be named 'Lampoon Square.' In response, Vellucci pulled no punches. Not only did he call the "mock Flemish"-style building "the ugliest building in the world," he suggested the city seize the building by eminent domain and turn it into a public restroom. Luckily for generations of Lampooners, his proposal never got much traction!
Restart with Heart
We received an outpouring of gratitude and affection from our Instagram followers in mid-July, when we shared photos of the book processing backlog that awaited our Access Services staff members.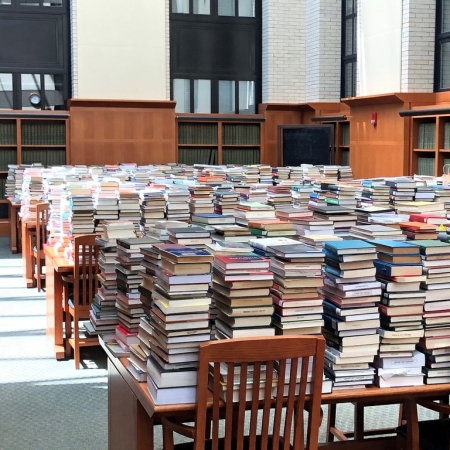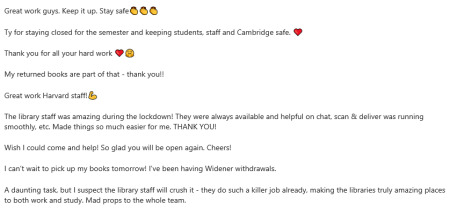 With new safety protocols in place, our staff was very excited to return to our libraries and restart user access to physical collections – but they were also somewhat overwhelmed by more than 10,000 returned items that needed to be processed.
They captured these photos which, between our Harvard Library social accounts and Harvard's flagship social accounts, received dozens of encouraging comments. Reading through the messages and sharing them with colleagues was definitely a highlight of the year.
A Class Day Speaker in a Class of His Own
Ahead of Juneteenth this year, I found this photo in the Harvard University Archives of student Clement Garnett Morgan, Harvard's 1890 class day speaker. His name was unfamiliar to me, so I started doing some background research and discovered that Morgan was a pretty extraordinary person.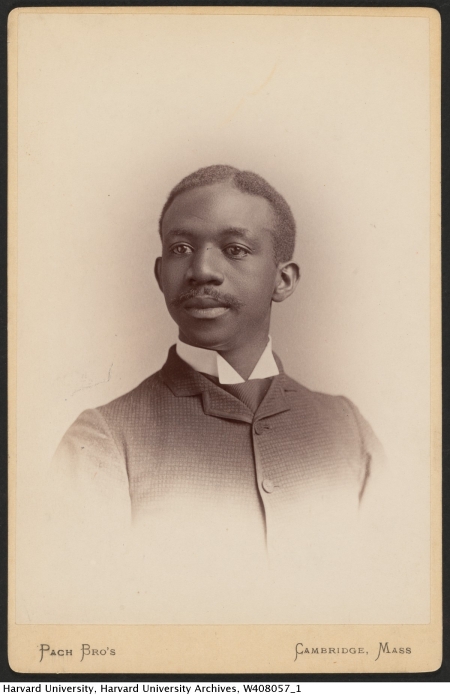 He was born into slavery in Virginia but grew up to earn both an undergraduate and law degree from Harvard. He was Harvard's first African American class day speaker, and later became the first Black alderman not just in Cambridge but in New England. Morgan was also involved with the civil rights movement in more ways than one – as a student, he gave public speeches about the need for equality of opportunity and Black pride, while as an attorney he took on many civil rights cases and even led the Boston branch of the NAACP. I probably took a two-hour detour finding and reading information on him – time well-spent!
Safe Space in the Stacks
If I ever needed a reminder of why social media is social, I got one in June via a Twitter exchange with Harvard alum and writer Meredith Talusan.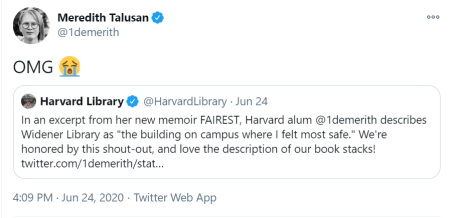 An excerpt from Talusan's new book shared by O: The Oprah Magazine included a lovely description of the Widener Library stacks – plus Talusan's admission that, as a self-described 'queer immigrant,' she has always found Widener to be the place on Harvard's campus where she feels most safe.
It was gratifying to see one of our library spaces described this way, especially by someone in a marginalized community. I couldn't resist sharing my reaction and, seeing Talusan's excited response, was so glad I did.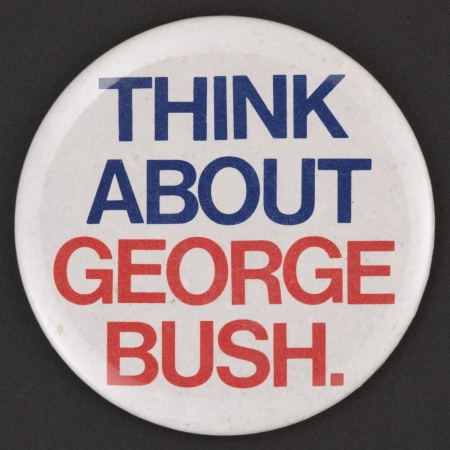 Good, Bad, and Weird Political Buttons
Ahead of the presidential primaries back in March, I was looking to promote the Political Buttons Collection at HKS Library and began looking through hundreds of digitized buttons.
The sheer number of candidates and causes represented was impressive, and, knowing little or nothing about some of the candidates, I found myself appreciating the slogans and designs on their own merit. There were the puns (Make America McGovernable), and the nicknames (I Like Ike, I'm With the Duke).
Then there were the ones whose strategies were truly incomprehensible, like this one: Think About George Bush. This will probably always be my favorite political button, if only because it seems to fail completely in its goal – is it for or against George Bush? It's a mystery I hope I never solve.
Ali? Whee!
The anniversary of Muhammad Ali winning his third heavyweight title sent me searching for photos of Ali in our archives. Not only did I find this Radcliffe archival photo of Ali at Harvard in 1975, I learned his Harvard visit resulted in one of the athlete's most memorable speeches, given to graduating students on Commencement Weekend.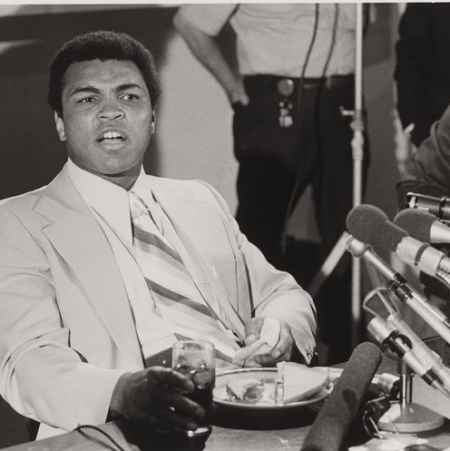 Ali gave the Harvard students some pearls of wisdom in his address, like, "Man desires to understand that which he cannot understand," and, "The greatness of a man depends on his heart, not on his education or wealth." He discussed civil rights and racism in America. But he also had fun, joking around with his student audience and demonstrating the 'Ali shuffle.' Arguably the best part is his invention of the world's shortest poem, about what it's like to be as great as he is: "Me? Whee!" I highly recommend watching as much of the address as you can find online.