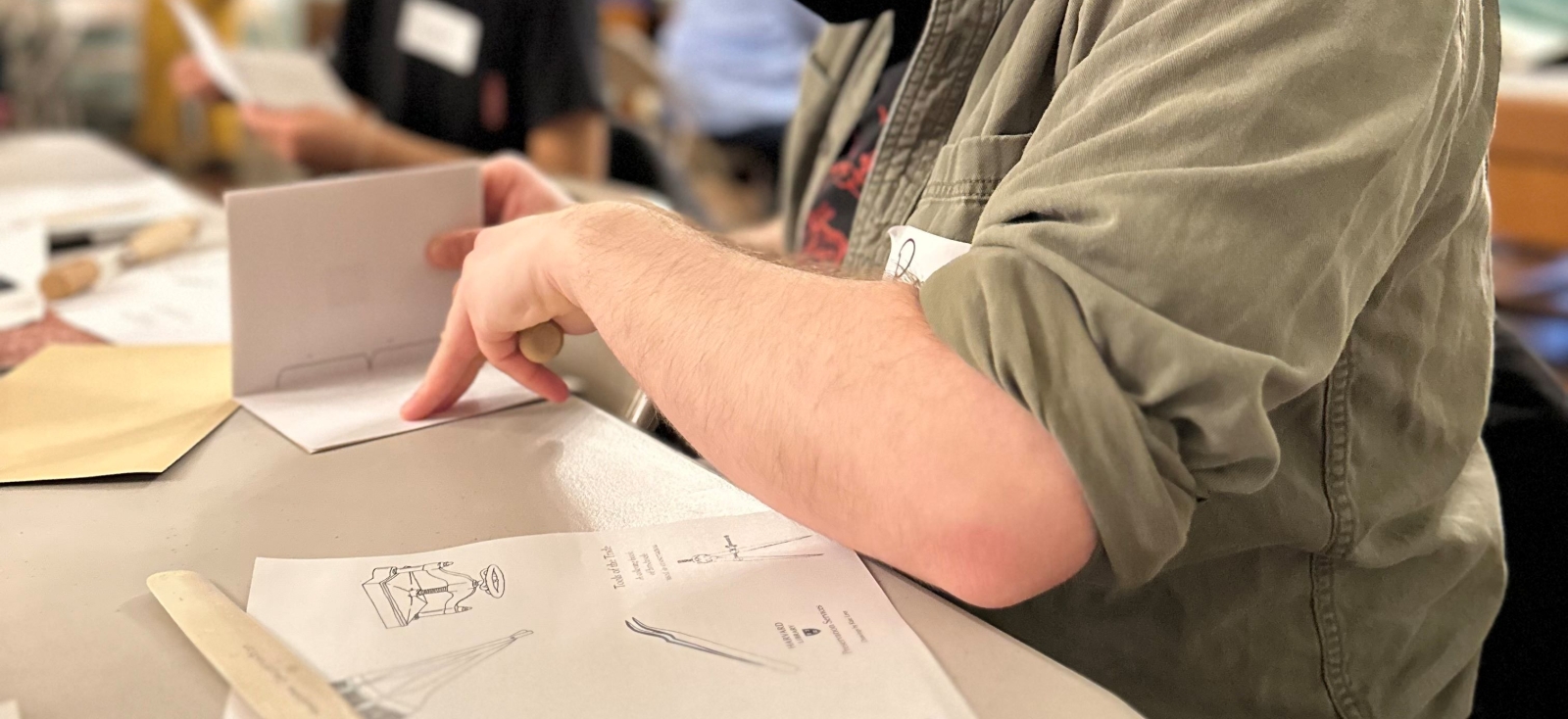 Tess Kelley, Harvard College '23, shares her hands-on experience in a zine- and pamphlet-making workshop at Houghton Library.
For a brief but productive hour on April 7, Houghton Library's Edison and Newman Room transformed from an exhibition space into a workroom. Over the last month, the room has hosted several events in the library's hands-on workshop series, an exploration of the many steps of self-publishing. At the April 7 workshop, participants including both curious community members and Harvard students — myself included — discovered the process of zine- and pamphlet-making.
This workshop and the others in the series complement the Edison and Newman Room's current exhibition, Do It Yourself! Self-Publishing from Letterpress to Laserjet, which explores how authors since the 1700s have taken control over their creative process via self-publishing. Surrounded by historical examples of self-published books and magazines, the workshop's participants and I got our own start as publishers with the guidance of Harvard Library Preservation Services staff.
As exhibition co-curator Christine Jacobson explained in her welcome remarks, this workshop series has been an opportunity to showcase the diverse talents of library preservation staff. As participants settled at their seats, each table's workshop facilitator began to explain the basic steps of creating a pamphlet, our first project of the hour: folding the pages precisely, poking holes for binding with an awl, mastering the steps of the stitch binding our pamphlet together.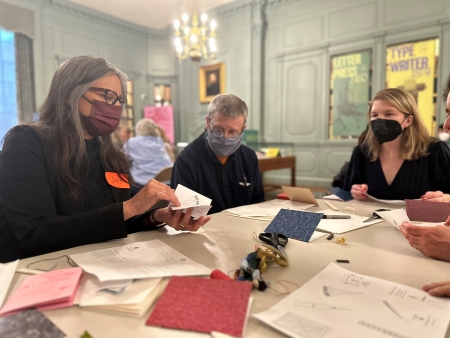 Our initial focus soon gave way to informal conversations highlighting the deep knowledge of preservation techniques and printing history possessed by the staff facilitators. They put the activity we were doing in the context of their preservation responsibilities. Jody Beenk, Senior Rare Book Conservator at the Weissman Preservation Center, explained that the cover for our pamphlets was a special type of paper called paste paper, whose designs were made from applying wheat paste to regular paper in any desired pattern. The sheets of paste paper we were using were samples from Weissman, originally intended as decorative endpapers for bookbinding but acquired by the center and set aside for teaching purposes. Conservation technician Andrew Leonard explained the extensive scholarship required to accurately preserve a physical work. He highlighted the importance of understanding time and place, so that works can be repaired in an age-appropriate way. 
Our next task, making the zine, was a bit more complicated, requiring creative folding and cutting to make our final product. Before my eyes, a single sheet of paper transformed into a miniature booklet. In this process we were simultaneously publishers and editors, as we had the opportunity to choose the content of our zine: illustrations of publishing tools such as a book press and an awl, or descriptions of the various divisions of preservation services. Either way, each participant came away from the workshop with not only a memento but also a reminder of what they had learned.
As with pamphlet making, crafting the zine soon gave way to spontaneous learning. Although we were working with tools from Preservation Services, Jody explained to us just how accessible self-publishing can be, describing how you could swap out the bone folder we used to crease sheets of paper for a kitchen spoon and get the same crisp folds in your zine. Outside of her library work, Jody herself is a self-publisher of cookbooks.
As I made the final folds of my own zine, I felt a sense of pride despite its simplicity. Engaging in this process myself allowed me to better understand the authors whose works were featured around me, from the subversive queer zine My Comrade to "fanzines" published by science fiction lovers. I recognized the appeal as an author of having a say in every aspect of your creative process, down to the binding of the work. 
At the beginning of the hour, exhibition co-curator Kristine Greive had explained how visitors to the exhibit, inspired by self-publishers across time and space, came away wanting to create. Looking around the workshop at its conclusion, it was easy to see that same inspiration in these newly-minted self-publishers.
Do It Yourself! Self-Publishing from Letterpress to Laserjet is on view at Houghton Library through Friday, April 21. The exhibition is open during regular library hours, from 10 a.m. to 5 p.m. Come see for yourself how centuries of authors have taken publishing into their own hands!