In the United States, Black Americans have a shorter life expectancy than white Americans by more than 3.5 years. They're more likely to die from cardiovascular disease than white Americans, and almost twice as likely to suffer a stroke. They have the highest cancer mortality rate of any race or ethnicity. But these inequalities are not biologically determined; they're the results of structural anti-Black racism in the systems that contribute to health outcomes and the systems that treat them.
Maybe money can't buy happiness, but it can often buy health. It can buy safe housing in a neighborhood with clean air and water, recreation space, and good schools. It can buy easy access to grocery stores with healthy food options and it can buy the healthy foods themselves.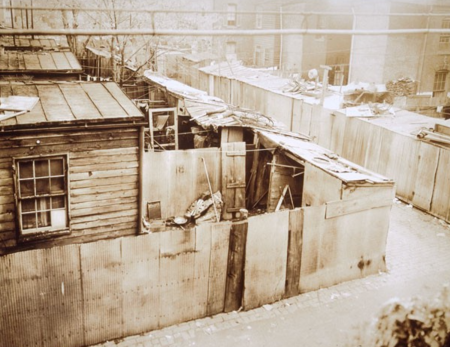 Over the last century, Black people in this country have been denied access to financial services like home loans and been banned from purchasing homes in majority white neighborhoods. Today, they have 30 percent lower rates of homeownership than white Americans and they're more likely to live in neighborhoods with lower property values, worse infrastructure, and fewer amenities. They've been cut off from many opportunities to acquire wealth, and the good health money can buy.
On top of this, Black Americans are more likely to live in toxic industrial areas or in homes with toxic lead paint, putting them at a higher risk to develop asthma and certain cancers. They're subject to higher rates of stress — influenced by factors like aggressive neighborhood policing, food insecurity, and high rates of unemployment — which can lead to chronic health issues like diabetes and hypertension.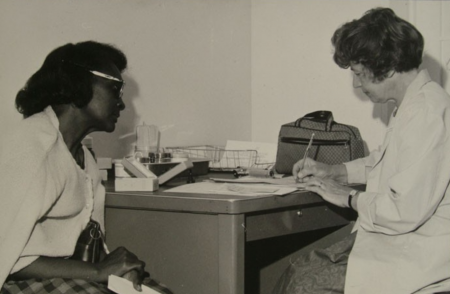 Healthcare in the United States has racial disparities, as well. Black Americans have historically been mistreated by medical professionals, including through exploitation in 20th-century medical research trials, and they have less trust in the healthcare system than other races. This lack of trust is understandable: even today, unconscious bias in medicine leads to Black Americans receiving inferior care and treatment. Most notably, Black women experience the highest infant mortality rates among all racial groups in the United States regardless of socioeconomic status.
Quite literally, the lives of Black Americans depend on eliminating racism.
Sources for the information above are cited at the bottom of this page.
Explore a curated sample of Harvard research and resources related to anti-Black racism in public health below.
Citations for Section Overview
Citations for Page Images
Black mother and two young children at a health center in Boston, 1968 | Two informal portraits of mothers with their young children. They are patrons of the Martha M. Eliot Family Health Center. Part of Martha May Eliot Papers. Folder: Other State and Local Activities: Children's Mission to Children, Boston: Oversize volume of photographs of Eliot Center, with dedication to MME, 1968. RLG collection level record MHVW85-A160. http://id.lib.harvard.edu/images/olvgroup1003600/catalog
Impoverished D.C. neighborhood with mostly Black residents, 1930s | Beals, Jessie Tarbox. Circa 1935-1939. View of tenement housing and yards from above. Buildings have corrugated metal fencing; yards are strewn with garbage, including washboards, cookware, screen doors, firewood, and crates. Part of Jessie Tarbox Beals Photographs. Folder: Professional Life: Hotel Allerton, Chicago, Ill.: interiors, ca. 1933: Washington, D.C.: poor people's housing (exteriors), probably late 1930s [6-5]. RLG collection level record MHVW88-A481. Schlesinger Library on the History of Women in America, Radcliffe Institute PC60-89-11. http://id.lib.harvard.edu/images/olvgroup1004243/urn-3:RAD.SCHL:279582/catalog 
A white doctor talks with her Black patient at a Boston health center, 1968 | Carsten, Teresa E. R. Untitled, 1968. Part of Martha May Eliot Papers. Folder: Other State and Local Activities: Children's Mission to Children, Boston: Oversize volume of photographs of Eliot Center, with dedication to MME, 1968. RLG collection level record MHVW85-A160. Schlesinger Library on the History of Women in America, Radcliffe Institute MC229-9vo-21. http://id.lib.harvard.edu/images/olvgroup1003601/urn-3:RAD.SCHL:138339/catalog