Segregation has been illegal in the United States for decades, but many neighborhoods are unofficially segregated – and separate is not equal. Majority-Black areas of American cities and towns are overwhelmingly less desirable and less prosperous. The built landscape of the United States reflects a legacy of place-based racial inequality influenced by housing and urban development policies of the 20th century.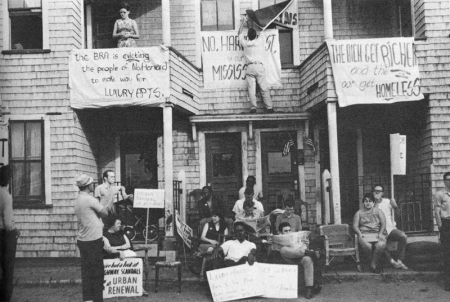 The economic prosperity experienced by most of America during and after World War II never really reached Black Americans. Federal financial assistance programs like the 1944 G.I. Bill helped many returning veterans buy homes, start businesses, or attend college, but racial discrimination in government and business meant Black Americans were left behind in the resulting housing boom. While white Americans flocked to subsidized homes in newly created suburbs, many people of color had to remain in cities with dwindling jobs, overcrowded housing, escalating poverty, and declining property values. They were restricted to specific neighborhoods formally, through discriminatory property owner policies and zoning laws, and informally, through racist mob violence.
Place-based inequalities were exacerbated later in the 20th century, when urban renewal and public works projects decimated poor neighborhoods and displaced their mostly Black residents.
Federal urban renewal programs from the 1950s to the 1970s displaced more than 300,000 families across the country, disproportionately razing Black neighborhoods in favor of commercial and industrial development. Any housing created by these projects was in smaller quantities and less affordable than before, or difficult to obtain without political connections, meaning most residents were forced to leave.
In Cleveland, 84 percent of those displaced by urban renewal were families of color, while in Minneapolis, families of color were just three percent of the overall population but 29 percent of those displaced. Black families across the country lost their homes, jobs, businesses, and social networks, leading to concentrated poverty and increased overcrowding in remaining residential areas. The economic and psychological toll was devastating.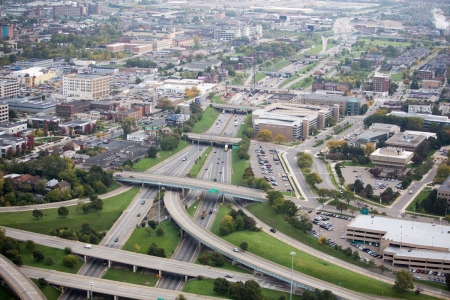 Interstate highway construction also began in the 1950s, prioritizing the needs of white suburban commuters over urban residents. New highways destroyed or isolated many Black neighborhoods, cutting them off from schools, stores, and economic opportunities. In some cases, as laws prohibiting housing discrimination were passed, segregation was built into the physical environment through strategically placed roads. Exhaust fumes and road runoff polluted the neighborhoods closest to highways, causing additional harm to their residents.
Understanding the historic development of spaces where people live and work is vital to understanding inequality in America. Racism, especially anti-Black racism, is threaded through the historical decisions and policies that shape life today.
The resources collected here document the historical dimension of race, space, and design, as well as propose equitable paths forward.
Explore a curated sample of Harvard research and resources related to anti-Black racism in space and design below.
Citations for Section Overview
Citations for Images
Map Illustrating the Distribution of the Predominant Race Factors in the West End, Boston, circa 1903 | Unidentified artist. Social Settlements: United States. Massachusetts. Boston. South End House: South End House, Boston, Mass.: From "Americans in Progress.": Map Illustrating the Distribution of the Predominant Race Factors in the West End, Boston, circa 1903. Harvard Art Museums/Fogg Museum, Transfer from the Carpenter Center for the Visual Arts, Social Museum Collection. http://id.lib.harvard.edu/images/HUAM57824soc/catalog
Housing complex protest against highways in Cambridge, MA, 1960 | Protesters hanging banners at housing complex, Protest against Highways. North Harvard. (1960), Cambridge, Massachusetts, United States. Courtesy of the Frances Loeb Library, Harvard Graduate School of Design (GSD5101mc.0701), Source unknown. http://id.lib.harvard.edu/images/olvwork286988/catalog
Highway in Detroit, MI, 2014 | MacLean, Alex S. Detroit, 2014. Detroit, Wayne, Michigan, United States.

Courtesy of the Frances Loeb Library, Harvard Graduate School of Design (

190231). http://id.lib.harvard.edu/images/8001310899/urn-3:GSD.LOEB:27348624/catalog