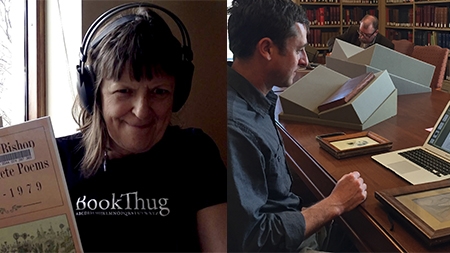 Each year, the Woodberry Poetry Room Creative Fellowship invites poets, writers, multimedia artists, and scholars of contemporary poetry to propose creative projects that would benefit from the resources available in the room and to generate new work that further actualizes the Poetry Room's collections.
The Creative Fellow receives a stipend of $4,000 and a Harvard Library special borrower's card, as well as in-depth research support from the curatorial staff. During certain years, additional WPR Creative Grants have been made available, with a stipend of $1,500.
The next deadline for application is January 20, 2020. (Extended from the earlier deadline of Jan. 15, 2020.)

Woodberry Poetry Room Creative Fellowships and Grants are generously funded by the Dr. Michael & Teresa Anagnostopoulos Fund.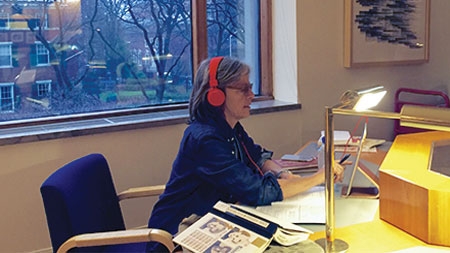 The next deadline for application is Jan. 15 (extended through Jan. 20, 2020). Application materials will be made available in Fall 2019. Click here to apply.
Applicants will be asked to provide a brief project description, an up-to-date currriculum vitae, and one letter of reference. Recipients will be notified by April 30, 2020.
For additional information, please contact the curator.
2019-2020
2018-2019
WPR Creative Fellowship: Tracie Morris, "The Impossible Man" (a performance project based on the work of the 19th century Shakespearean actor Ira Aldridge)
 
WPR Creative Grants: Tess Taylor, "Roads Not Taken: Pilgrimages with Poets & Poems"
 
2017-2018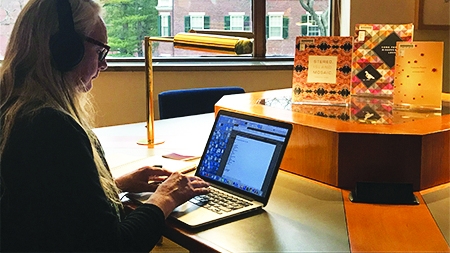 2016-2017
2015-2016

2014-2015