The Creative Fellowship program invites poets, writers, translators, visual artists, composers, and scholars to propose creative projects that would benefit from an immersive encounter with the Woodberry Poetry Room and its collections.
The fellowship includes: a stipend of $5,000, access to the Woodberry Poetry Room (and several other Harvard special collections), and research support from the Poetry Room curatorial staff. Thanks to the generosity of the T. S. Eliot Foundation, the fellowship recipient will also receive a one-week residency to work on their project at the T. S. Eliot House in Gloucester, Massachusetts. The Eliot House residency may be scheduled between May-October of the fellowship year, but does not have to coincide with the fellow's research visit to Harvard. 
The fellowship recipient will receive a Harvard Library special access card that is active for one year, allowing for a great deal of flexibility in terms of scheduling. It is hoped that the $5,000 stipend (which is the comprehensive honorarium for individual and collaborative recipients) will help to offset travel and lodging costs.

The fellowship program at the Woodberry Poetry Room is generously funded by the Dr. Michael & Teresa Anagnostopoulos Fund. 
Applicants will be asked to provide the following information and materials:
a project description
a curriculum vitae
a work sample
no letter of reference is required
no application fee is required
Click here for the Submittable application form.

Deadline
February 1, 2023 (notification by June 1, 2023)

 
The Creative Fellowship program invites applications from individuals (and collaborative teams) from an array of disciplines, including poets, writers, translators, filmmakers, visual artists, sound artists, composers, musicians, scholars, and digital humanitarians. We welcome submissions from applicants representing a wide range of perspectives, demographics, aesthetics, causes, and questions. The fellowship is open to candidates of all nationalities. (While non-U.S. citizens awarded a fellowship are required to obtain a J-1 visa, Harvard University can help sponsor the visa. Fellows will be responsible for paying any visa-related fees).

The Poetry Room is committed to diversity and inclusion. We do not discriminate based upon race, religion, color, sexual orientation, gender identity, gender expression, age, or disability.
2022-2023
2021-2022
2020-2021
2019-2020
2018-2019
Fellowship: Tracie Morris, "The Impossible Man" (a performance project based on the work of the 19th century Shakespearean actor Ira Aldridge)
Grant: Tess Taylor, "Roads Not Taken: Pilgrimages with Poets & Poems"
 
2017-2018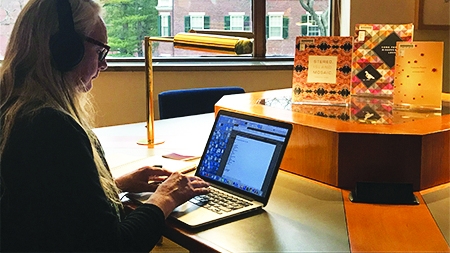 2016-2017
2015-2016
2014-2015