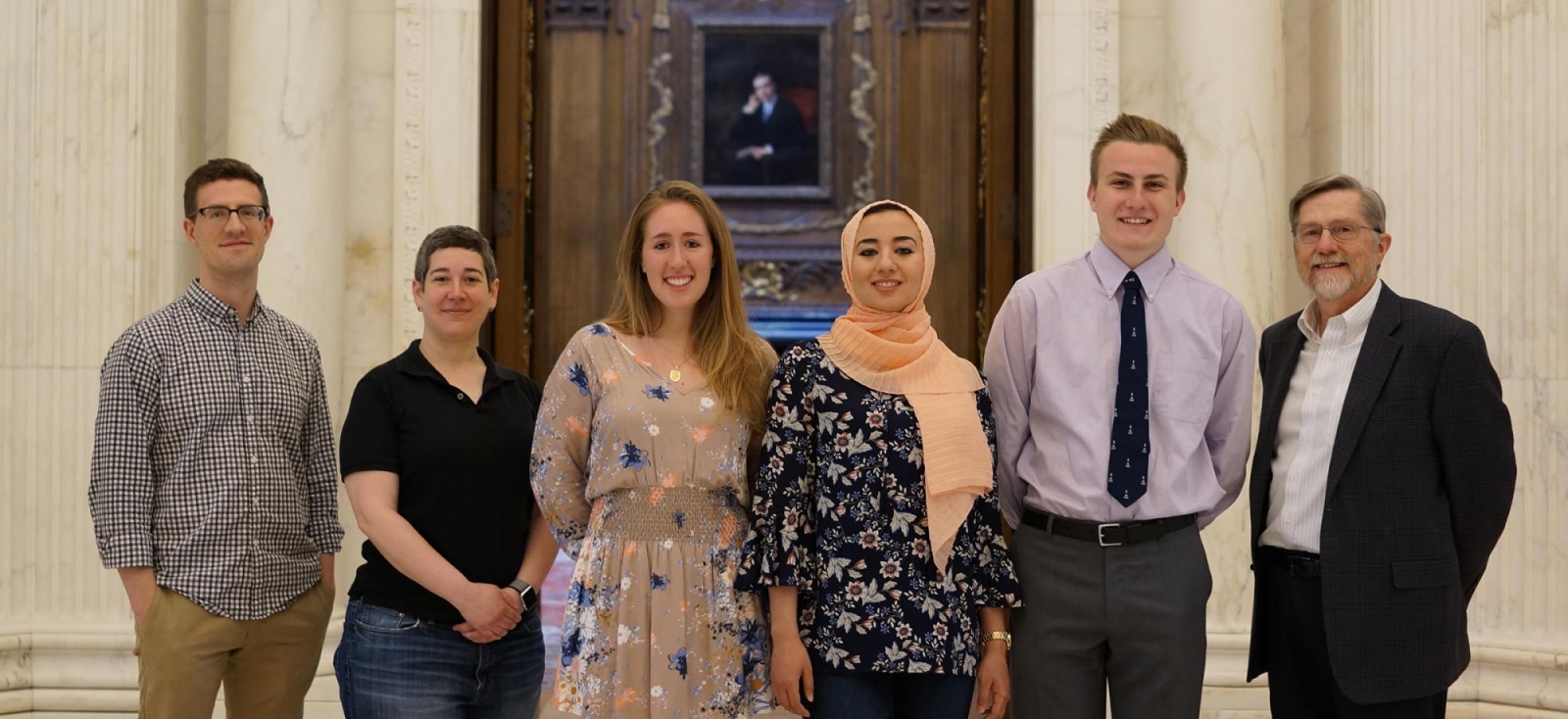 "Growing up in the suburbs of Portland, Oregon, surrounded by pine trees and Priuses, I was often afraid that I would drift away from my Syrian identity," recalled Hanna Masalmeh, '18. "Books were my way of bringing Syria closer and led me to build a deeply meaningful collection. One imbued with the rich textures of my Syrian-American Muslim identity."
And it is this collection that Masalmeh describes in "Far From the Eyes, Far From the Heart: My Life as a Syrian-American Muslim," which was recently awarded first place in the Visiting Committee Prize for Undergraduate Book Collecting competition.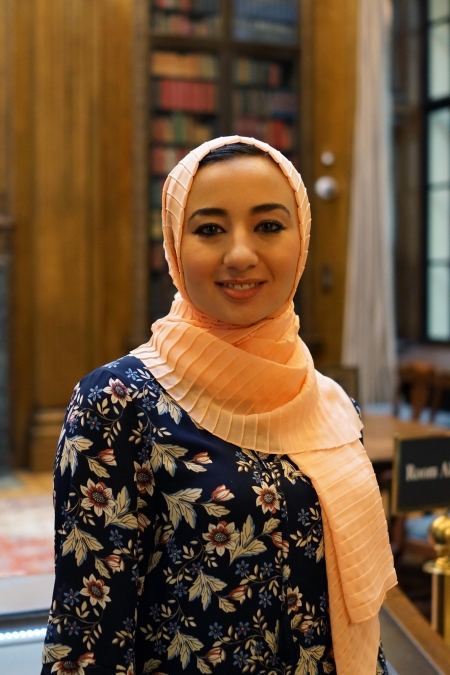 In addition to checking out books on Syria from the local library, Masalmeh would "swoop in on promising materials like a magpie," collecting storybooks, religious textbooks, and even her grandfather's own writings on the Palestinian Diaspora.
One of the most fertile periods for her book collecting was when her parents sent her sister and her to Syria for a year.
"During trips to Damascus, I would drag my family to Souk Al-Hamidiye, searching through the stalls to find books to my liking." After picking out the books she wanted, Masalmeh remembers her parents engaging in the treacherous sport of haggling with the bookseller. "I learned well. To this day, I have never overpaid for a book."
One of the latest additions to Masalmeh's collection is a short volume of poetry by Gibran Khalil Gibran, the famed Syrian-American poet, whom, she noted, wrote: "Are you a politician asking what your country can do for you or a patriot asking what you can do for your country?" John F. Kennedy referenced this line in his inaugural address—"Ask not what your country can do for you, ask what you can do for your country."
"Few would guess that a Syrian-American wrote this line," said Masalmeh, "and yet it has come to epitomize American patriotism. For me, these words symbolize the endless possibility of embracing both my identities, not as contradictory, but as complementary. I am now a confident Syrian-American woman, and every book I have collected has a unique place in this personal evolution. I am not finished with this journey. I will continue to change, and I will continue to add to my collection."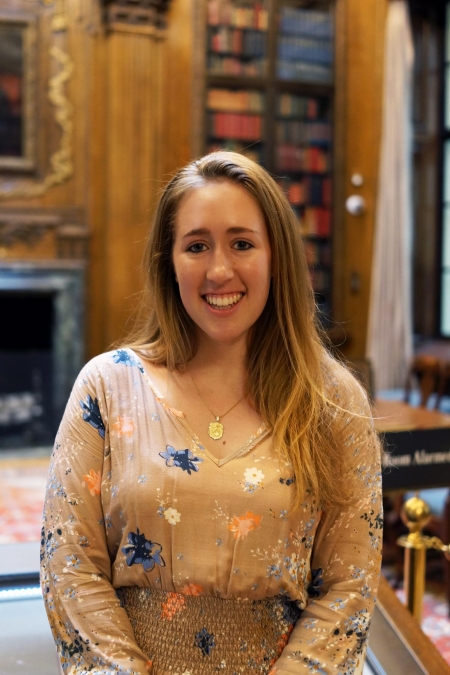 Second place was awarded to Alana Davitt for her entry "Lessons From 'The School of Southern Degeneracy': The Collection of a Student of Secrecy, Sentiment and the South."
Davitt's collection started with Harper Lee's "To Kill A Mockingbird" and some printed copies of short stories from freshman English in high school. "The first book I purchased on my own soon after was Flannery O'Connor's short story collection 'A Good Man is Hard to Find.' From there my mother recommended Toni Morrison's 'Beloved,' and I was hooked. Here were two vastly different authors displaying strikingly similar honesty, brutality and understanding of the human condition."
By the end of high school Davitt had begun an intentional collection, supported by the opening of a used bookstore close to home.
"Limited financially, I would hunt for books here and in all the local thrift shops. My collection has also benefitted from influences and gifts from my mother and grandmother."
From a very young age, though, Davitt felt like she had encountered "in the flesh and in spoken tales" some of the personalities that were in the books that she collected. "My family roots stem from Alabama and Georgia, and my ancestors include forbidden romances between Northerners and Southerners, a Choctaw carpenter, and a thrice-married nightclub singer. I believe it is in part my connection by blood to these characters of kin that has made me fall so deeply and tragically in love with the characters I've encountered in Southern literature."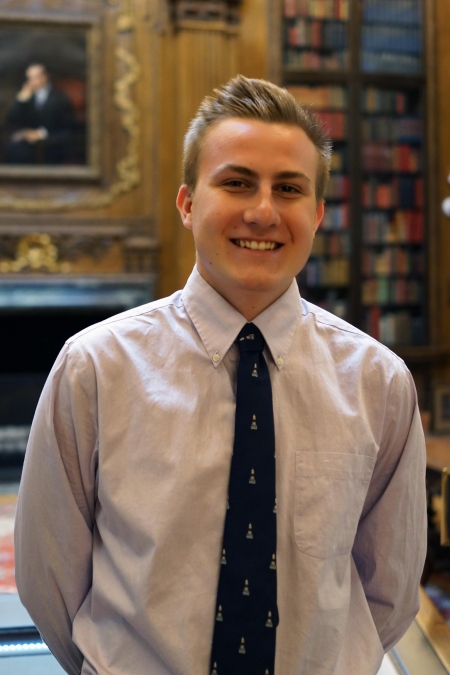 History of Art and Architecture major Gavin Moulton took the honor of third place with his entry "Parthenopean Odyssey: A Personal Journey Through the Miraculous and Mundane in Neapolitan Churches."
Moulton's collection began when he was 13. His family had moved to Naples on the latest permanent change of station in his father's military career. He became intrigued by the city's churches and how the history of these spaces was interwoven with Neapolitan worship, saints and tourists.
"The collection started organically," explained Moulton. "During my conversations with curators, nuns, priests, and custodians, many of them offered me publications describing the churches for which they lived and worked." Their generosity and his inquisitiveness resulted in an expanding assortment of books, pamphlets, prayer cards, magazines, calendars, and online printouts that form the basis of his collection.
Moulton quickly discovered, though, that visiting the churches in Naples was not an easy task. "There weren't any English language guides to the churches," he explained. "This was compounded by a lack of comprehensive guides in Italian with information pertinent for visitors."
Inspired by his own experiences with the churches, he decided to fill that gap and write a guide to the churches in Naples, a project that he continued when he returned to the States at the age of 15 and completed in his junior year in high school.
"To date, it has not been published, so instead of a published and bound book, I have a spiral bound, Kinko's-printed book on my shelf. Along with the other books in the collection, it is a constant reminder of the experiences that shaped me during a challenging time in my life, and the places and people that made me fall in love with Naples."
At the congratulatory event, each winner was presented with a cash prize — $3,000 for first prize, $1,500 for second, and $750 for third — and a copy of "Among the Gently Mad: Strategies and Perspectives for the Book Hunter in the Twenty-First Century" by Nicholas A. Basbanes.
"We had excellent entries this year with a wide range of themes," said Martin Schreiner, one of the four judges who reviewed the submissions. "What stood out in the essays of the three winners was the impact of building their collections on their lives."
Established in 1977, the Visiting Committee Prize for Undergraduate Book Collecting is awarded annually to recognize and encourage book collecting by undergraduates at Harvard. It is sponsored by the Members of the Board of Overseers' Committee to Visit the Harvard Library. Students competing for the book collecting prize submit an annotated bibliography and an essay on their collecting efforts, the influence of mentors, the experience of searching for, organizing and caring for items, and the future direction of the collection.
Twenty-seven students declared their intention to enter the competition, and 11 submitted their work for consideration. The judges this year were:
Robyn Rosenberg, engineering librarian in Cabot Science Library 
Lynn Sayers, administration and events coordinator in Lamont Library and Maps, Media, Data and Government Information 
Martin Schreiner, librarian of Lamont Library and director of Maps, Media, Data and Government Information
Matthew Sullivan, librarian for collection development and planning for Widener Library.
An exhibition featuring items from the winners' collections is on display on the second and third floors of Lamont Library.