On October 13, in a ceremony at the Library of Congress in Washington, DC, Harvard undergraduate Hanaa Masalmeh was awarded third place in the 2018 National Collegiate Book Collecting Contest. Her entry, "Far From the Eyes, Far From the Heart: My Life as a Syrian-American Muslim" previously won first place in the Visiting Committee Prize for Undergraduate Book Collecting at Harvard Library in April.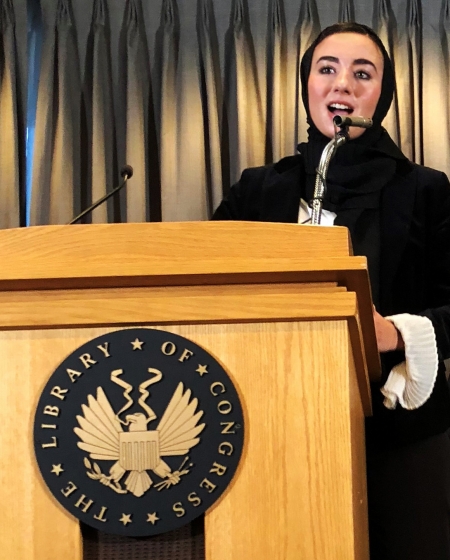 Growing up in the suburbs of Portland, Oregon, Masalmeh was often afraid that she would drift away from her Syrian identity, "Books were my way of bringing Syria closer," Masalmeh said. "It led me to build a deeply meaningful collection, one that really captures rich textures of my Syrian-American and Muslim identity."
In addition to checking out books on Syria from the local library, Masalmeh would "swoop in on promising materials like a magpie," collecting storybooks, religious textbooks, and even her grandfather's own writings on the Palestinian Diaspora. 

Much of Masalmeh's collection focuses on the awkwardness of adolescence. "Middle school was really the time when I had to decide to be different," Masalmeh says. "While my friends wore Jonas Brothers backpacks and Jesse McCartney T-shirts, I wore the hijab. This was around the time Lady Gaga was wearing those crazy outfits, and I reminded myself that if my classmates still thought Lady Gaga was cool, I could also be cool. Of course, I was a book nerd even then, so that plan didn't quite work out."
High school was the time when Masalmeh became truly comfortable with her identity. "That was when I started doing stand-up comedy. And suddenly, all the crazy stories I had about growing up Muslim and Arab found a home." At Harvard, Masalmeh has continued performing stand-up comedy. "What comedians do is we try to bring out a unique perspective. I feel I've been incredibly lucky to have an upbringing that gave me a different way of looking at things. Thank God my parents didn't listen to me when I said I didn't want to go to Arabic school!" 

Masalmeh is also passionate about creative nonfiction. "I took a writing class this semester and wrote about a very smelly, very Syrian eggplant pickle called magdoos. It was the symbol of everything I found embarrassing about my childhood. After reading my essay, my professor actually asked me to bring some magdoos to class!" Masalmeh laughs. "Everything came full circle at that point."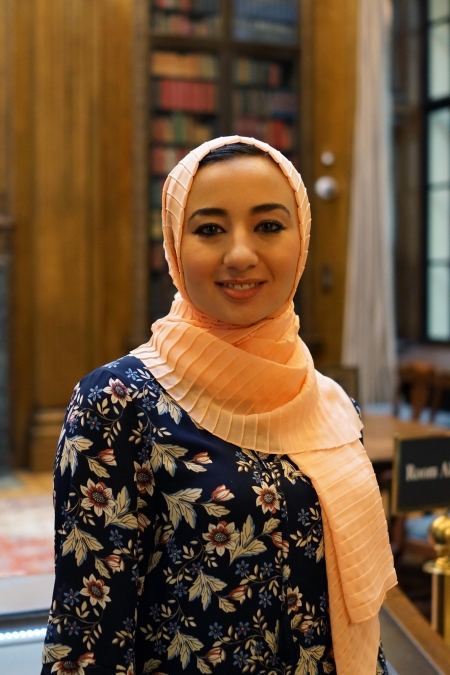 A recent addition to Masalmeh's collection was a short volume of poetry by Gibran Khalil Gibran, the famed Syrian-American poet, whom, she noted, wrote: "Are you a politician asking what your country can do for you or a patriot asking what you can do for your country?" John F. Kennedy referenced this line in his inaugural address—"Ask not what your country can do for you, ask what you can do for your country." 
"Few would guess that a Syrian-American wrote this line," said Masalmeh, "and yet it epitomizes American patriotism. For me, these words symbolize the endless possibility of embracing both my identities, not as contradictory, but as complementary. Ultimately, it's important for me to take ownership of my history, not as a burden, but as an honor and a privilege." 
"Hanaa's collecting has clearly had an impact on her life," said Robyn Rosenberg, Harvard Library's representative at the event. "Through her unique ability to articulate this impact, she brings forth the complexity of identity and allows all of us to explore what defines us. We had excellent entries in this year's Visiting Committee Prize for Undergraduate Book Collecting. It's wonderful that Hanaa could represent that group of Harvard students in Washington on the national level."