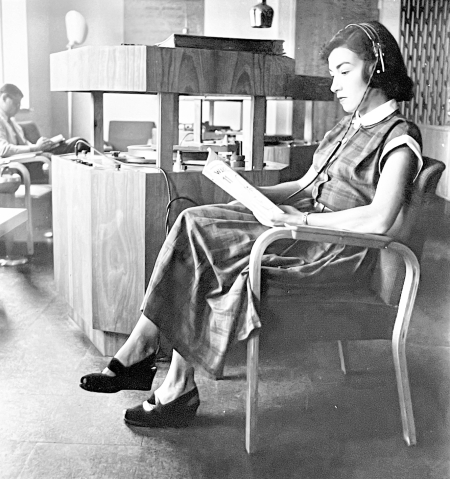 One of the first poetry record labels in the world, the Harvard Vocarium (1933-1955) was established by Harvard professor of rhetoric & oratory Frederick C. Packard, Jr. as a part of his larger vision to create a "vocarium" — a word that he and Classics professor E.K. Rand coined to mean "a place where recordings of voices are kept and used for study and enjoyment."
Poets recorded for the Vocarium (in many cases for the first time) included T. S. Eliot, Elizabeth Bishop, Robert Lowell, Marianne Moore, Anaïs Nin, Ezra Pound, Muriel Rukeyser, and a range of authors in over 20 languages.
Over the course of the next two decades, a collaboration developed between Packard and the Poetry Room, whose curators have continued the mission to record some of the greatest literary innovators of our time and to fulfill Packard's vision of creating a library of voices at Harvard.
This April, we honor this living legacy with a display of original Vocarium records in the exhibit, HARVARD VOCARIUM AT NINETY, and a series of public listening sessions on the Alvar Aalto-designed record consoles. The first WAX POETIC sessions will feature a curated selection of quintessential Vocarium records paired with hot-off-the-press records from Fonograf Editions, spanning a full 90 years of record production. 

To attend the Listening Sessions, please view our Wax Poetic calendar.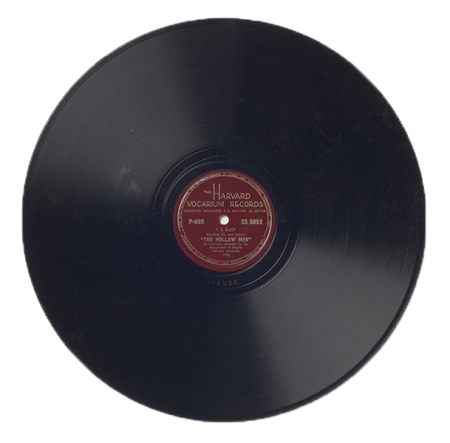 HARVARD VOCARIUM RECORDS
FONOGRAF EDITIONS