General Library Instruction Sessions
Librarians can provide instruction sessions tailored to a specific class or topic area. Librarian-led classes can be held in a variety of library spaces, in the class's regular location, or we can visit your class or section remotely.
To arrange a session, contact your library liaison or submit a request.
Sessions can be developed around any skill level or disciplinary interest. Our visits are customized to the needs of your course, and topics include:
Engaging with Primary Sources
Introduction to College-Level Research
Literature Reviews
The Stories Maps Tell
Oral History and Interview Skills
Reaching Beyond Harvard
Evaluating What You Find
Database Searching
Teaching with Special Collections and Archives
Class sessions at participating special collections libraries and archives can range from surveys of faculty-selected collection material to sessions for which our staff provide guided explorations.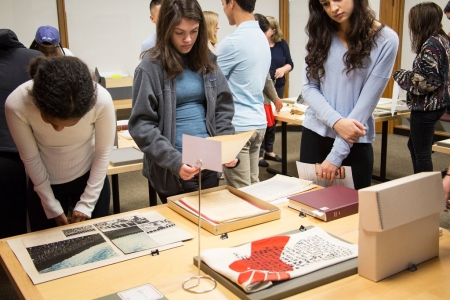 We're also happy to support students through assignments which require engagement with our collections.
Bring your class in for an hour or schedule several visits for in-depth investigations of archives, manuscripts, maps, rare books, and more.
To start the planning process, submit a request and you'll be contacted by a librarian or archivist who will work with you to plan and execute your goals for the session.
We recommend submitting requests as early as possible to ensure staff and space are available.