Dear library colleagues,
As of the first of this month, our colleague Tom Hyry has officially assumed his expanded role of Associate University Librarian for Archives and Special Collections and Florence Fearrington Librarian of Houghton Library. I wanted to take a moment to officially congratulate Tom and welcome him to his new position.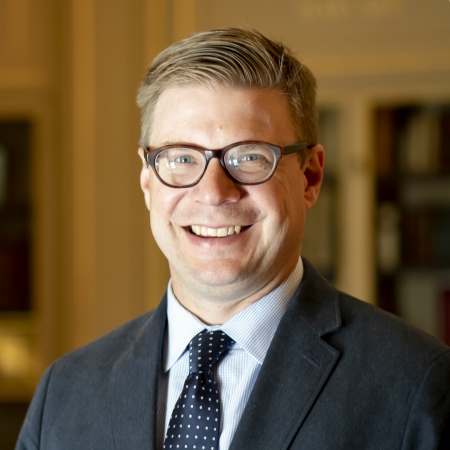 The creation of a senior role dedicated to archives and special collections signifies the increasing and strategic importance of our rare and unique holdings to the future of Harvard Library. In his new role, we are asking Tom to partner across Harvard Library to advance system-wide infrastructure and initiatives that will support Harvard repositories and their users.  He will also add oversight of the Harvard University Archives to his existing management responsibilities, which include the Fine Arts Library, the Harvard Film Archive, and the Eda K. Loeb Music Library, as well as Houghton Library, for which he will continue to serve as director.
An archivist by training, Tom will bring strong experience and an exceptional record of successful leadership at Harvard, UCLA, and Yale to his new responsibilities. Under Tom's direction since 2014, Houghton Library has created a more open, welcoming, and dynamic environment for research, teaching, and community engagement and has prioritized telling diverse stories through the library's exhibitions, digitization projects, and acquisitions. Tom has proven an excellent advocate for the library and made strong connections with faculty, students, visiting scholars, donors, colleagues, and others passionate about Houghton and its collections.
As a dedicated and inspiring leader, Tom takes special pride in the growth and accomplishments of his staff and in seeing Harvard take a more collaborative approach among repositories on campus over the past several years. Most recently, Tom established and implemented a transformative vision for the physical renovation of Houghton to be even more inviting, accessible, and functional. I know he's looking forward to sharing the newly renovated, inspiring spaces with the library and campus community as soon as we're able to do so.
Over its nearly 400 years, Harvard Library has had the privilege and the responsibility of acquiring and stewarding an incomparable collection of rare, unique, and invaluable materials that form a vital part of our collective cultural and institutional memory. Our special collections represent not only an incredible resource for the University but for a global audience of scholars, students, and the general public passionate about what we can learn from archives, manuscripts, rare books, and other materials. As we move forward, our work will be measured by how we connect our holdings with a broader and more diverse set of users, so that together we can generate new knowledge and creative work.
To realize this vision, it is also crucial that our collections continue to evolve to include an even broader spectrum of human experience. In this way, our archives and special collections, and the talented archivists, librarians, curators, and staff who steward them, play a critical role in our work of Advancing Open Knowledge.
I am very grateful to Tom for taking on this expanded role, and I look forward to working with him, and the amazing special collections and archives community at Harvard, to ensure we continue to grow and evolve.
Please join me in congratulating Tom on his new role.
Sincerely,
Martha Whitehead
Vice President for the Harvard Library and University Librarian
Roy E. Larsen Librarian for the Faculty of Arts and Sciences