Harvard Library's Pforzheimer Fellowships provide an opportunity for Harvard graduate students to learn about library careers, advance their own research skills, and get to know the library from the inside. Students choose from a list of library projects (see below) and submit an application. ​​Fellowships are awarded to five students every winter/spring and run during the summer.
Fellows are awarded up to $5,000 to complete a library project under the guidance and mentorship of a librarian or archivist.
Any graduate student who is enrolled at Harvard is encouraged to apply.
A small committee, chaired by Carl H. Pforzheimer University Professor Ann Blair, selects fellows for the program with input from the Harvard Library.
Choose a Project: Review the proposed fellowship projects (see projects) and choose which you'd like to apply to work on. You may submit more than one application. 
Contact your References: You will be asked to include two references on your application. Your references should be two people you've worked with while at Harvard, one of which must be a Harvard faculty member. Your references must send their letters of support to Hannah Hack at  hannah_hack@harvard.edu.
Application Deadline
Applications have closed for the 2023 Pforzheimer Fellowships.
Fellowship dates
Summer 2023 
Award
$5,000
Things to know
Fellows are assigned a mentor from the library and work on defined projects under the mentor's supervision. 
Fellows are expected to assume full responsibility for their projects.
Each fellow must submit a final report of this work describing and evaluating their experiences.
APPLY
Applications have closed for 2023.
Library Projects Summer 2023
Projects are created from across Harvard's libraries and range from digitizing materials to working on exhibits or taking a deep dive into a collection. Students can read through and find a project that's right for them.
Documenting the War in Ukraine with Internet-Based Primary Sources
Americas Europe Oceania Division (AEOD), Widener Library
Working with collection development librarians with expertise in web archiving to build and enhance collections of internet sources documenting Russia's full-scale invasion of Ukraine on February 24, 2022, after eight years of military conflict between Russia and Ukraine. The work will focus on two collections, both being part of the world-wide efforts to document the war as it is reflected in various genres of open-access online activity. Applicants should discuss their knowledge of Ukrainian, Russian and other Slavic languages in application. About the Documenting the War in Ukraine with Internet-Based Primary Sources Project (pdf)
Connecting the Gutman Collections to the Black Teacher Archive
Monroe C. Gutman Library, GSE
Gutman Library seeks a graduate student in African American Studies, American Studies, History, Education, Public Policy or a related field to develop strategies for connecting resources between the Black Teacher Archive and the Gutman Library Collections. The Pforzheimer Fellow will work closely with the Black Teacher Archive Project Manager and Gutman's Special Collections and Research Librarian. Using OCLC's Green Glass collection analytics tool, manual review, and other methods, the Fellow will conduct a collection analysis of Gutman's holdings of published and archival materials related to Black educators in the mid-19th and 20th centuries.
The Black Teacher Archive is a collaborative effort to centralize publications by Black educator organizations in the 20th century. Through a collaborative effort with 65 institutions across the country, the project has coordinated the digitization of over 1,825 items. The Fellow will help us determine our collection strength, identify opportunities for improvement, and draw connections between Gutman's holdings and the digital Black Teacher Archive. About the Connecting the Gutman Collections to the Black Teacher Archive Project (pdf)
Virtual Harvard College Library — Lamont Library
Lamont Library & Services for Academic Programs, FAS
As part of the campus-wide Virtual Harvard initiative, HL's Digital Scholarship Program has sponsored (and maintains) 3D virtual scans of a dozen library spaces (e.g. Lamont, Widener, etc.). In addition to supporting virtual tours and space planning activities, this platform uses interactive, location-based annotations to connect informational, descriptive, and instructional content, images, and video with physical locations (and vice versa) as a means of enhancing the user experience of each library.
Services for Academic Programs and the Library Digital Scholarship Program are currently seeking a graduate student to help with development of the Lamont Library virtual instance and contribute to the creation of a broader workflow for enhancing these innovative digital assets. There is definite need for additional assistance to support the administration of these facilities scans. The Widener Library virtual instance, the most developed of the 3D scans, has hosted more than 55k unique visitors to date, and averages 2000+ visits a month. While virtual instances of each of the College libraries currently exist, most are either underutilized or still in need of further enhancement. About the Virtual Harvard College Library - Lamont Library Project (pdf)
Indigenous Studies of Near East, Middle East and North Africa in the Harvard Library, MEAAD Collection
Middle East, Asia, Africa Division, (MEAAD), Widener Library
Librarians are often asked for "research tricks'' and "search strategies" for working in Harvard's Hollis Catalog. Researchers often ask for both a summary of the collection's highlights as well as clues to rare finds and unique discoveries. Researchers are often anxious to take advantage of the depths of Harvard Library's collections, but need assistance with information literacy skills for searching in Hollis and across multiple Harvard libraries (including Tozzer, Divinity, Fine Arts, Widener, etc.) In a recent presentation on Oct 26, 2022 for the Middle East Librarians Association's (MELA) Social Justice series, Harvard Librarian Amanda Hanoosh Steinberg organized a session, The Amazigh Indigenous Library and the Future of Amazigh Studies, devoted to research techniques for locating material on ethnic and religious minorities in the Near East, Middle East and North Africa. The MELA panel generated special interest in the capacity of Harvard's collections to support indigenous studies of Amazigh as well as Bedouin, Kurdish, and Alevis cultures.
With the support of the Pforzheimer Fellowship Program, we are looking to collaborate with a graduate fellow to apply the innovative design prototype of the Harvard Digital Collections Platform to curate a library guide based on Harvard Library's holdings of Near East, Middle East and North African indigenous resources. Possible areas of interest may be, but are not limited to Amazigh Studies, Bedouin Studies, or Alevis Studies. About the Indigenous Studies of Near East, Middle East and North Africa in the Harvard Library, MEAAD Collection Project (pdf)
Expanding Access to Geospatial Data Collections
Harvard Map Collection, FAS
The Harvard Map Collection stewards and provides access to over 11,000 digital datasets via the Harvard Geospatial Library. While these materials are available in a traditional data portal environment where one searches and facets results, it can be intimidating to first-time users of the collections, or those new to geospatial formats how to make sense of what's available. The research projects the library supports are increasingly reliant on the discoverability of high-quality digital data, and lucid access to these materials has never been more important. Navigating the data landscape of what types of data are collected at all– a topic explored in recent projects such as The Library of Missing Datasets – compared against what is available within the Harvard Library ecosystem is a challenge we face as we continue to engender data information literacy in our research, teaching, and learning efforts.
This project aims to generate top-level glimpses into the vast collection of geospatial materials available in the Harvard Map Collections. Fellows may choose between creating straightforward text-based collection overviews in the style of library guides, or using the fellowship to strengthen data visualization muscles by creating interesting visual glimpses into our collections. In the latter option, we are inspired by projects such as the Public Domain Remixes of the NYPL collections, where online visitors can visualize collections by century, genre, or color. Applicants with knowledge of tools such as D3.js or Datawrapper, who are looking to experiment with how these tools can be applied in library career settings are encouraged to apply. Programming skills, however, are not required for this fellowship. Those interested in the data visualization option will have support from Digital Scholarship specialists in the library for learning new tools, and applying best practices. About the Expanding Access to Geospatial Data Collections Project (pdf)
Wadsworth House: Its History and People
Harvard University Archives
Wadsworth House is the second oldest extant building on the Harvard campus. Built in 1726, it has been a home, workplace, meeting location, and even temporary lodging for a wide variety of individuals who have passed through the space that is where Harvard University now stands. The focus of the project is to, as much as possible, uncover underrepresented histories of people of who worked, lived, stayed at, and built Wadsworth House. Starting with the land acknowledgement of the space where Wadsworth house sits—on the traditional and ancestral land of the Massachusett—and moving forward in time covering the colonizing settlers who founded the College, the occupation during Revolutionary War, and through the changes that shifted the building from being a residence, to a dorm, to an office space, the fellow will trace the history of Wadsworth House and uncover as much as possible the narratives and lives of those who have traveled through the space.
The final project of this fellowship will be to create a report, and, if time permits, collaborate with the Marshal's Office and the University Archives to develop an interpretive history of the building and its various occupants, which will be made public for use by visitors to the University, students, faculty, scholars, and the general public interested in the campus. About the Wadsworth House: Its History and People Project (pdf)
The Legacy of Slavery in Houghton Library's Collections
Houghton Library, FAS
The report on the Legacy of Slavery at Harvard released last year revealed the extent to which Harvard University benefited financially and reputationally from donations by slaveholders and others whose fortunes depended on the trade. So, too, did Harvard's libraries. Today, Houghton Library holds not only those materials that were once part of the Widener 'Treasure Room' but also thousands of books that were once part of Harvard's circulating collections, amassed over centuries via purchase and donation. This project aims to quantify and qualify the extent of Houghton Library's current collection materials that were acquired directly from enslavers & their families; donated by those whose fortunes depended on the slave trade; or purchased via endowed funds established by these families.
This work will take place in two stages, in which the fellow will have support from the entire Collections & Programs division. The fellow will first quantify the extent of Houghton's relevant collections items, consulting the library's printed book provenance file, internal donor files, and historical dealers' catalogues, as well as examine books & manuscripts themselves for evidence of ownership (bookplates, inscriptions). The fellow may occasionally need to conduct research at other repositories where they hold relevant biographical or administrative records or in cases where Houghton lacks a complete run of dealers' catalogues. About the Legacy of Slavery in Houghton Library's Collections Project (pdf)
Librarianship in the 21st century engages with some of the liveliest areas of intellectual activity, yet most graduate students have little idea of the exciting professional opportunities available in libraries.​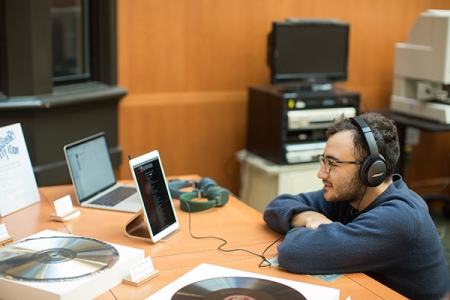 During these fellowships, the Pforzheimer Fellows are assigned a mentor from the library and work on Harvard Library projects under the mentor's supervision. While getting to know librarians and librarianship firsthand, they will be expected to assume responsibility for their projects. Each Pforzheimer Fellow will be awarded up to $5,000 to complete the project.
At the end of the project, the fellows will be asked to submit a final report of this work describing and evaluating their experiences. Fellows will also participate in discussions with each other about their experiences.
These fellowships are in honor of Carl H. Pforzheimer III for his generous contributions to Harvard and its libraries.
Past Fellows
Spring 2022 Fellows
Donald Brown: Harvard and HBCUs
Gangsim Eom: Urban Segregation
Julia Harris: ACT UP Collection
Johannes Makar: Finding Aids for Middle East Collections
Kabl Wilkerson: Indigenous Peoples and Native American Exhibit
Learn more about their projects.
Spring 2021 Fellows
Practical questions concerning the application process should be addressed to Hannah Hack at hannah_hack@harvard.edu.
More general, academic questions concerning the program may be addressed to Professor Ann Blair at amblair@fas.harvard.edu.