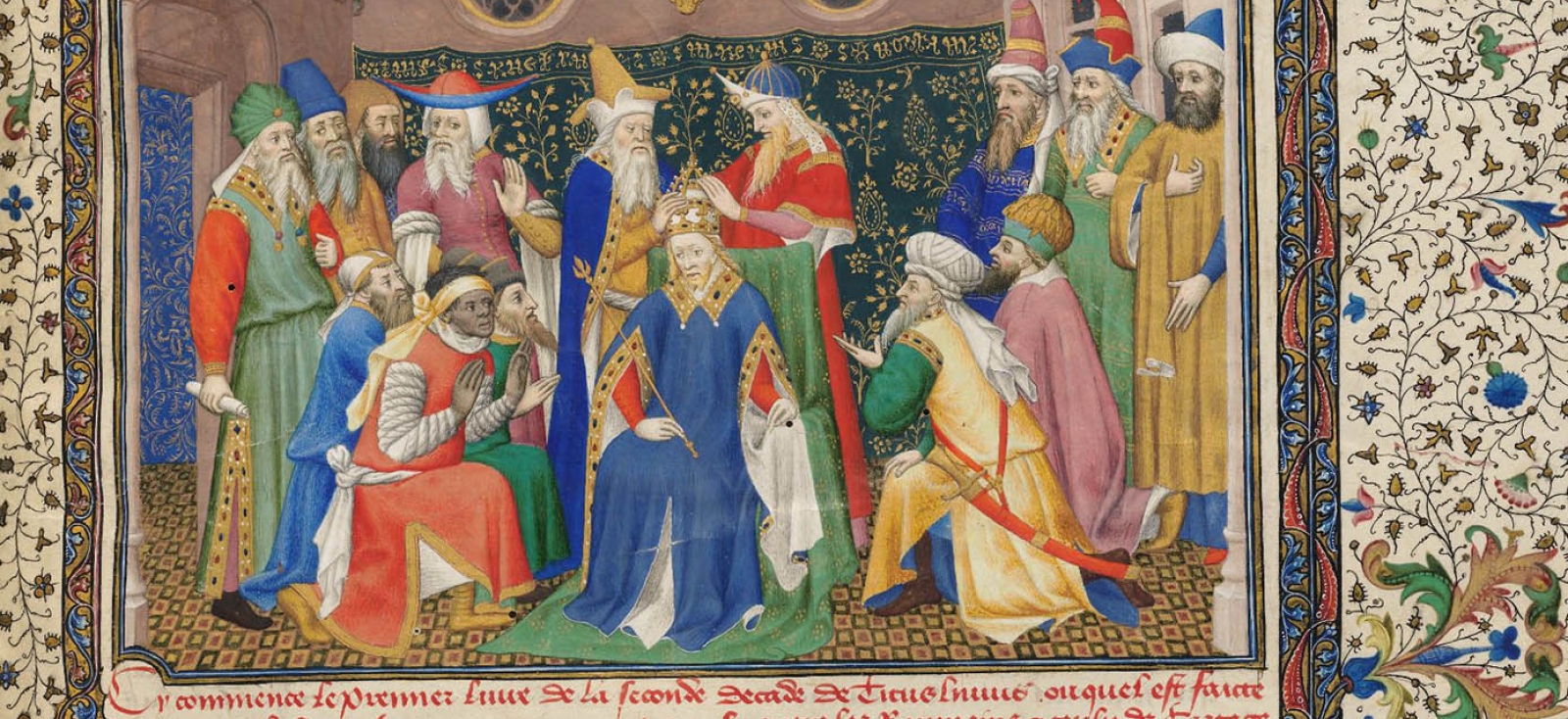 Overview and History
Prominent Boston lawyer and bibliophile William King Richardson assembled a remarkable collection of rare books and manuscripts over the 40 years leading up to his 1951 death.
The nearly 1,700 volumes Richardson gave to Harvard are housed together in a single room of the Houghton Library. The space, reserved for this purpose since the library's opening in 1942, reflects Richardson's refined taste. Richardson himself provided the room's bookcases and paneling, and it's now furnished with chairs and tables from his own library.
Richardson studied classics and history at Harvard as an undergraduate (graduating summa cum laude in 1880). He maintained a variety of scholarly interests throughout his life, and his library is similarly wide-ranging. Its particular strengths include its illuminated manuscripts, incunabula, illustrated books, and fine bindings, but not all its treasures fall into one of these categories.
Manuscripts
The 56 manuscripts in the collection date from the 12th to the 17th century. Notable among these are the nine Books of Hours, which feature delicate foliated borders and magnificent miniature depictions of medieval life.
Other important manuscript works include a 12th century copy of Augustine's works, a Wycliffe New Testament, and a 15th century chronicle of British history whose margins are ornamented with frolicking grotesques.
Incunabula
The collection also includes 109 incunabula, of which 53 were printed before 1480. Important pre-1480 incunabula include a fragment of the Gutenberg Bible, a first-edition copy of the Imitatio Christi, and an illuminated volume of Valerius Maximus' historical writing.
Among the post-1480 incunabula, the illuminated and vellum-printed Decades rerum Venetarum (1487) is one of the most splendid.
Rather more humble but still important are the 18 incunabula in the collection produced by the Aldine Press. This famous Venetian press, which specialized in classical works, was responsible for two critical innovations in the world of publishing. It introduced italic type, and was the first to issue volumes in the portable and relatively inexpensive octavo size.
The William King Richardson Library also includes over 115 post-1500 Aldine volumes, many of which once belonged to eminent Renaissance lawyers, authors, and statesmen.
Bindings
Visitors to the William King Richardson Library will undoubtedly be struck by the beauty of the bindings on display. Master binders such as Florimond Badier, Antoine Padeloup, and Roger Payne are well represented.
Alongside their elaborately stamped and inlayed leather bindings, one may also find unusual bindings in a number of materials: copper, heavily-worked silver, and even tortoise-shell. The ornamentation of some volumes extends even to the edges of their pages, which are gilded, stamped, or even treated as a small canvas for painted portraits or landscapes.
For a more detailed description of the collection and its history, see William H. Jackson's "The William King Richardson Library."
Contact
Houghton Library Public Services