Harvard Library's May-Crane Fellowships offer undergraduate and graduate students at Harvard the opportunity to work on a project at the library. Fellows work closely with a library mentor to complete their project.
Fellows are awarded up to $3,500 to complete a library project under the guidance and mentorship of a librarian or archivist.
Any undergraduate or graduate student who is currently enrolled at Harvard is encouraged to apply.
Choose a Project
Review the proposed fellowship projects (see projects listed below). Choose which you'd like to apply to work on. You may submit more than one application. 
Application Deadline
Applications are closed for 2023. 
Fellowship Dates
Spring/Summer 2023 (continuation in Fall 2023 if needed)
Projects
Applicants should review the proposed fellowship projects below and choose which one you'd like to work on
Things to Know
Fellows are assigned a mentor from the library and work on defined projects under the mentor's supervision.  
Fellows are expected to assume full responsibility for their projects.
Each fellow must submit a final report of this work describing and evaluating their experiences.
A small committee of Library leadership members selects the fellows for the program. 
Projects support work across Harvard Library and range from digitizing materials to working on exhibits or taking a deep dive into a collection. Select a project that resonates with you. 
1. Historic Dataset Pilot Research
Discovery and Access Department
The Harvard Library is currently seeking a fellow to experiment with recently created dataset(s) and develop research questions that could be answered using the extracted data. Research outputs could include computational research, data visualizations, and recommendations for future research or further curation of the collections. Interested fellows may also help generate additional metadata for describing the collections in Dataverse. Fellows will have the opportunity to connect with other summer research fellows working on related topics.
About the datasets: In order to support digital scholarship at Harvard, the Library has experimented with the creation of computational datasets from historic digital collections. Our pilot initiative resulted in the extraction of numeric data tables from eight volumes in the Chinese Maritime Trade collection: Returns of trade at the port, Shanghai annual returns of foreign trade, Trade statistics of the treaty ports, and Annual trade report and returns 1924-1928.
At the end of the pilot, all eight volumes will be available as datasets in Harvard Dataverse. Currently, we have a dataset for each volume that includes csv files with the tabular data, OCR text files, ALTO XML annotation files, the original and processed image files, and METS and index files that describe the relationships between them.
Qualifications: Experience with computational research methods in the social sciences and/or humanities. Experience with scripting languages such as R, Python, and Javascript. Expertise with Excel. Ability to be self directive and willingness to experiment. Knowledge of Chinese written language helpful but not required.
2. Documenting and Exploring Rare Atlases
Harvard Map Collection
This project will take ten of our most significant and rare atlases that have not been digitized and inventory the map plates. The inventory will be compared against the atlas' table of contents, if it exists. The goal of this part of the project is to identify missing plates and document the current state of the atlas. The inventory itself will be of great use to scholars around the world as it will open up discoverability of the contents of these rare atlases. It also is a security measure as we will have a benchmark in case we suspect any plates of going missing in the future.
This inventory is the main project product and will be used to update HOLLIS atlas records with the list of plates. This will make the maps in the atlases discoverable in a way they never have been and provide a level of access that will be a boon to researchers worldwide. The fellow will also have the opportunity to explore a related topic of their choosing and write a blog post or create a publicly accessible StoryMap. This could be a comparison of our atlas to another edition/state held at another institution. Or, the fellow could do a deep dive into two contemporaneous atlases and look at the different content and the map similarities. The subject can be driven by the fellow's interest.
3. Archival Discoveries tied to Harvard & Legacy of Slavery Report
Harvard University Archives
The Report of the Presidential Committee on Harvard & the Legacy of Slavery is a momentous document because of the history it reveals and the path it lays out for hard work of Harvard's need to reckon with its past. The report is organized around three themes: first, Harvard's direct ties to enslavement, where Harvard leaders, faculty, and staff enslaved more than 70 people that we know of during the 17th and 18th centuries; second, Harvard's financial ties to enslavement by accepting support from donors who benefited from operations that were built on enslaved individuals' labor and pain, primarily during the first half of the 19th century; and third, Harvard's support of faculty and leaders in the 19th and 20th centuries who promoted debunked theories of race science and eugenics, ideas that underpinned Jim Crow segregation and fascism, and still support white supremacy today.
Central to the first part of the report is the historical information that is found in the institutional records and personal archives that are preserved at the Harvard University Archives. Archivists at the University Archives supported this project by assisting in locating the information to create this report and provide historical evidence of Harvard's previously untold ties to slavery. Much of the material that was cited in the first theme of the report is digitized and easily accessible to the public to examine. Now, as the University moves forward with the recommendations of the report, it will be important for the Archives to partner with various stakeholders to surface more information for investigation. The Archives is seeking a May-Crane Fellow to help with this process by conducting research and compiling more information on the second and third themes of the report, assembling a resource guide for discovery and use of these materials for deeper scholarly inquiry and teaching support, assisting with the work of the recommendations in the Harvard and Legacy of Slavery report, and general maintenance of files and databases associated with the project.
4. Transliteration Tools for Arabic and Persian Languages
Services for Academic Programs (SAP) & Middle East, Asia and Africa Division (MEAAD)
A fundamental obstacle for researchers when looking for materials written in Arabic or Persian language in Harvard Library's Hollis Catalog is learning to use the Library of Congress's transliteration system. Researchers often share frustrating experiences of trying multiple variations of the spelling of a title or author before the catalogue reveals the item within Harvard's collection as if there exists a hidden algorithm. This project proposes to work with the library's liaison to Middle East and Near East Studies to create a search-aid for Arabic and Persian transliteration that corresponds to Harvard's MEAAD collections. The search-aid would include references to the Library of Congress' romanization tables as well as common tips that are often not intuitive when simultaneously translating and transliterating.
The May-Crane fellow will assist in developing an information literacy plan to orient researchers working in Middle East and Near East languages to best practices in transliteration protocol for catalog searches in Hollis. Through consultations with the library's project team and user experience feedback, the fellow will produce for publication: 1) a digital instructional page for MEAAD LibGuide, and 2) a physical item. Possible ideas for the physical collateral include a bookmark (i.e. SAP's "Get the Most Out of Hollis Bookmark") or a laptop sticker. This project models a critical partnership between academic libraries and emerging researchers to promote inclusive support for minority language at Harvard Library.
This project with result in a polished finished product that will be immediately useful. The fellow will gain digital skills in curating a web page on MEAAD's library guide, instructional skills in library outreach and orientation programming, user experience skills in creating a physical item, and a deep understanding of library cataloguing and use of meta-data. This fellowship will provide a reference for their c.v. with a url citation for the fellow's digital portfolio. It is also a rich opportunity to be deeply immersed in Harvard Library's MEAAD resources.  
5. Expanding Geospatial Access
Harvard Map Collection
The Harvard Map Collection stewards and provides access to over 11,000 digital datasets via the Harvard Geospatial Library. While these materials are available in a traditional data portal environment where one searches and facets results, it can be intimidating to first-time users of the collections, or those new to geospatial formats how to make sense of what's available. The research projects the library supports are increasingly reliant on the discoverability of high-quality digital data, and lucid access to these materials has never been more important. Navigating the data landscape of what types of data are collected at all– a topic explored in recent projects such as The Library of Missing Datasets – compared against what is available within the Harvard Library ecosystem is a challenge we face as we continue to engender data information literacy in our research, teaching, and learning efforts.
This project aims to generate top-level glimpses into the vast collection of geospatial materials available in the Harvard Map Collections. Fellows may choose between creating straightforward text-based collection overviews in the style of library guides, or using the fellowship to strengthen data visualization muscles by creating interesting visual glimpses into our collections. In the latter option, we are inspired by projects such as the Public Domain Remixes of the NYPL collections, where online visitors can visualize collections by century, genre, or color. Applicants with knowledge of tools such as D3.js or Datawrapper, who are looking to experiment with how these tools can be applied in library career settings are encouraged to apply. In both options, we are interested in approaches which advance the Equity, Diversity, Inclusion, Belonging, and Anti-Racism (EDIBA) goals of the Library, identifying gaps in the data collections, and opportunities to learn from these gaps. In addition to a guide or a data visualization, fellows will also write a blog piece summarizing key takeaways from the experience.
The May-Crane Fellowships are designed to encourage undergraduate engagement with Harvard Library and to help advance the careers of graduate students. Fellows partner with library staff to work on projects in a range of areas, from collections to preservation to research, teaching and learning.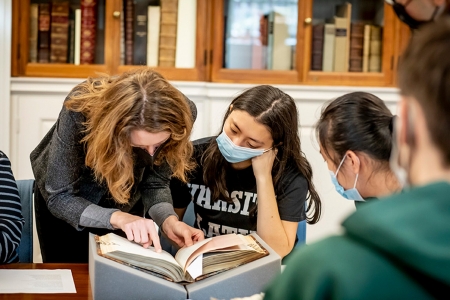 During the fellowship, a library mentor supervises and provides expertise as fellows complete their projects. These are immersive opportunities where fellows become an integral part of the library. While getting to know librarians and the library environment firsthand, they will be expected to assume responsibility for their projects and work independently.
At the end of the projects, the fellows will be asked to submit a final report describing their work and evaluating their experiences and contributions. Fellows will also be given the opportunity to present their work as a cohort.
Past Fellows and Projects
Past projects have included:
Selecting a platform and curating online exhibits to enhance users' virtual experience
Augmenting information in the online collection, City Maps and Urban Environments, to demonstrate historical segregation in cities
Project management of digitization processes on EDIBA collections
Creation of a comprehensive virtual finding aid for Middle East Collections
Building out watermark and image databases and drafting watermark imaging protocol
Enhancing Wikipedia entries for historical Harvard women and minority figures
Evaluating the Peer-Research Fellows and First-Year Librarians programs
Creating 'how-to' research guides for students in conjunction with the launch of GenEd 2.0
Crafting content for digital materials to increase awareness of Harvard's collections