Harvard Library's May-Crane Fellowships offer undergraduate and graduate students at Harvard the opportunity to work on a project at the library. Fellows work closely with a library mentor to complete their project.
Any undergraduate or graduate student who is currently enrolled at Harvard is encouraged to apply.
Application Deadline
The 2022 application process has closed; a call for 2023 applications will be announced during the fall semester
Fellowship Dates
2023 dates to be announced
Projects
Applicants should review the proposed fellowship projects (2023 projects will be posted when applications open) and choose which one you'd like to work on
Things to Know
Fellows are assigned a mentor from the library and work on defined projects under the mentor's supervision.  
Fellows are expected to assume full responsibility for their projects.
Each fellow must submit a final report of this work describing and evaluating their experiences.
Library Projects Spring 2022
Projects support work across Harvard Library and range from digitizing materials to working on exhibits or taking a deep dive into a collection. The projects from 2022 are listed below, and the 2023 projects will be listed when applications open.
Recreating Physical Exhibits for the Digital World
Eda Kuhn Loeb Music Library
Pre-pandemic, the Music Library curated three physical exhibitions a year, showcasing topics ranging from ethnomusicological collections to recent acquisitions. With many unable to visit campus, the Library prioritized shifting exhibitions online for virtual engagement, broadening audience interest beyond the local Cambridge community. The fellow was tasked with selecting one of the Music Library's past exhibitions to transfer into an online environment, specifically proposing which online platform to host the exhibition. This project enabled the fellow to explore the use of audiovisual components, visualizations, and related full-text materials that are difficult to present in the physical exhibition space.
DIBAR Digitization Program Support
Harvard Library Imaging Services
Harvard Library is focused on digitizing collections that exemplify our Diversity, Inclusion, Belonging and Anti-Racism (DIBAR) values. As such, Imaging Services devised the DIBAR Digitization Program Support project as an opportunity for a fellow to support efforts to make these collections more accessible. The fellow operated as a project manager and shepherded collections through the full digitization process: coordinating with the owning repositories, overseeing the safe transfer of collections, preparing items for imaging, consulting with Preservation Services for stabilization if needed, documenting processes, and accurately linking items in Hollis records. Through this work, the fellow was exposed to the larger library network and the departments involved in making physical library collections accessible online. 
Finding Aids for Middle East Collections
Services for Academic Programs

Researchers often ask for 'discovery tricks' and 'search strategies' when using Harvard Library's Hollis Catalogue. While serendipitous search terms can be successful, they are not consistent. Harvard Library's Discovery Team created a virtual platform finding aid prototype. This project tasked a fellow to test the prototype on the Middle East Collections. The fellow curated the first series of virtual finding aids to assist researchers in highlighting regions within this collection. Through consultations with the library project team and user experience feedback, the fellow published a library guide for Middle East resources across Harvard Library. This project models the critical partnership between academic library and emerging scholar. 
Urban Segregation
Harvard Map Collection
Urban segregation surrounds the lives of everyone in a city but often is not obviously visible on a printed map. The Urban Segregation project explores Harvard's collections of urban maps throughout the world, animating the effects of urban segregation. By augmenting and deepening what is already available in the online collection, City Maps and Urban Environments, the fellow selected several specific, well-represented cities in our collections in order to show the different ways segregation is depicted on maps, and how maps and data about a city can help us understand the lasting effects of segregation. Combining research with paper maps and geospatial data, this project has also enabled the fellow to develop skills in digital and spatial history while also seeing how librarians collect, curate, and produce maps and geospatial data.
The May-Crane Fellowships are designed to encourage undergraduate engagement with Harvard Library and to help advance the careers of graduate students. Fellows partner with library staff to work on projects in a range of areas, from collections to preservation to research, teaching and learning.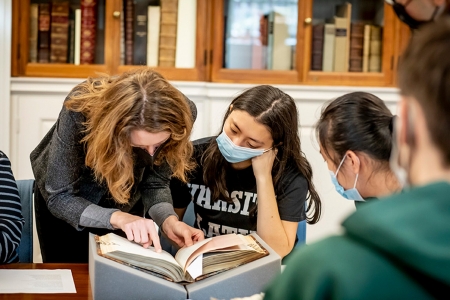 During the fellowship, a library mentor supervises and provides expertise as fellows complete their projects. These are immersive opportunities where fellows become an integral part of the library. While getting to know librarians and the library environment firsthand, they will be expected to assume responsibility for their projects and work independently.
At the end of the projects, the fellows will be asked to submit a final report describing their work and evaluating their experiences and contributions. Fellows will also be given the opportunity to present their work as a cohort.
Past Fellows and Projects
Past projects have included:
Building out watermark and image databases and drafting watermark imaging protocol
Enhancing Wikipedia entries for historical Harvard women and minority figures
Evaluating the Peer-Research Fellows and First-Year Librarians programs
Creating 'how-to' research guides for students in conjunction with the launch of GenEd 2.0
Crafting content for digital materials to increase awareness of Harvard's collections