Welcome to the Media Studios
Located on the lower level of Cabot Science Library, our two self-service media studios have everything you need to easily make high-quality audio and video recordings. You can take your video files with you on a USB drive after you finish recording.
---
Studio Equipment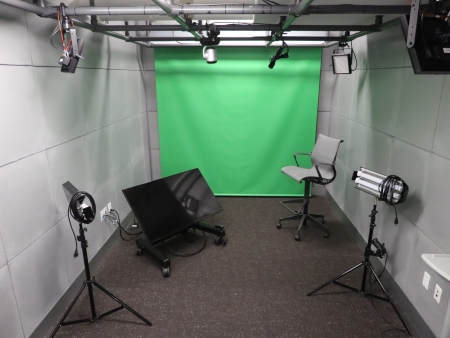 Grey and green screen backgrounds
Overhead or rear view camera perspective
Completely controllable through a Crestron touch screen
A ceiling microphone
Additional mics
Studio lights
---
Training
Before booking a media studio you must complete a 30-minute training session.
Drop-in trainings are offered Mondays through Fridays between 10 a.m. and 12 p.m. 
Trainings are also available by appointment Mondays through Fridays between 9 a.m. and 5 p.m.

Contact cablib@fas.harvard.edu to set up a training time.
---
Booking
Once you are trained, you may book either studio for up to 2 hours. Read about the specific equipment available in Media Studio A and Media Studio B to find out which one best suits your needs. 
You can check the media studios calendar for booking availability. 
When you're ready to make a reservation, email cablib@fas.harvard.edu at least one week in advance with the following information:
Which studio you would like to book
A short description of your project
Preferred dates and times for use
Setup requests and special technological needs
---
Media Help Hours
Cabot's media studios are largely self service. Student media consultants are available to help and offer drop in trainings during the academic year.
Monday through Sundays 12 p.m. to 8 p.m. except Friday 12 p.m.-6 p.m. 
Things to Know
Media Studios are available for all members of the Harvard community to use.
Food or beverages are not allowed in the studios.
Rooms may be reserved for a maximum of two hours at a time.
Reservations for consecutive, concurrent, or recurring meetings are not permitted.
The reserver takes full responsibility for loss or damage to equipment, cables, cameras, furniture and all other items in the studio. Fines will be assessed by Harvard Library for any damage detected, and can be levied up to one month after the reservation is completed.
---