| | |
| --- | --- |
| Exhibition Gallery | 9am - 5pm |
Features
Special collections and archives
Printers / scanners / copiers
Visit
The Harvard Map Collection is open to all regardless of affiliation.
Much of our material is in HOLLIS but some is still only in the card catalog. View the digitized card catalog.
To view materials, you must place requests through HOLLIS Special Request. Once submitted, requests will have the status "Request Submitted" until you arrive. With the exception of a limited number of materials stored off-site, these materials can be pulled upon your arrival. 
Those without a Harvard ID must first visit the Harvard Library Privileges Office in Widener Library.
Our space can be accessed via a flight of stairs down from ground level at the Pusey Library main entrance or the Lamont Library west entrance. Access without stairways is available through the Lamont Library main entrance via the ramp at the Quincy Street gate.
---
---
Story Maps by the Harvard Map Collection
---
In 1818, Israel Thorndike purchased the library of Christoph Daniel Ebeling. That library included books, newspapers, and about 5,000 maps. Thorndike then donated the entire library to Harvard College, and the 5,000 maps became the foundation of the Harvard Map Collection.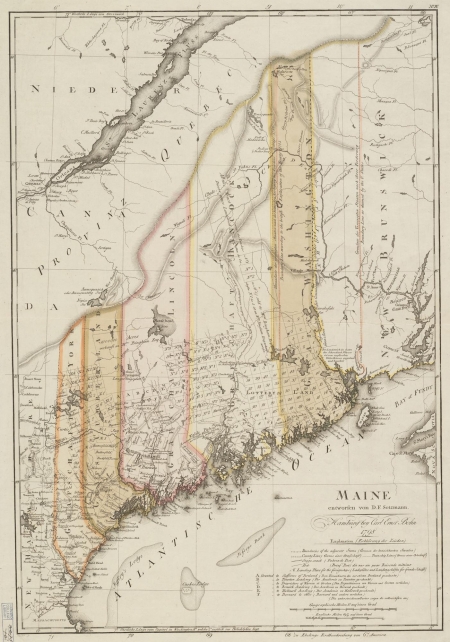 Ebeling, a professor of Greek and history at the Gymnasium in Hamburg, was an authority on America. While researching his seven volume Erdbeschreibung und Geschichte von Amerika (1793–1816) he acquired many maps of North America. He hired geographer Daniel Friederich Sotzmann to compile and draft maps for an Atlas von Nordamerika. Harvard is one of the few American collections to have copies of all 10 of these rare maps.
Throughout the intervening two centuries, the collection grew through acquisition and through donations. The focus from the Ebeling Collection was North America, but that focus shifted as the collection grew.
The era of Reconstruction following the Civil War was a great railroad building period, as well as one of significant urban growth. Boston's population increased more than 200% in the years from 1860 to 1900. Harvard's collection of Boston and New England maps reflects this growth.
Justin Winsor became Librarian of the College in 1877. Winsor identified the map collection as an area for expansion. He used the collection extensively for his own research, specifically his Bibliography of Ptolemy's Geography (Cambridge, 1884) and Bibliography of the Kohl Collection of Maps Relating to America (Washington, GPO, 1904).
With the opening of the Harry Elkins Widener Memorial Library in 1915, the map collection was given more appropriate accommodations and renamed the Winsor Memorial Map Room.
In 1957, with the closing of Harvard's Institute for Geographic Exploration, about 90,000 maps were added to the collection. These maps showed areas around the world, making the collection much more global in scope.
Since its start almost two centuries ago, the Harvard Map Collection has grown to encompass 400,000 maps, 6,000 atlases, and 5,000 reference books. It is one of the oldest and largest collections of its kind in the United States.