Highlights
Harvard's primary collection and resource of global materials for the study of the history of art and architecture and related disciplines.
Islamic art and architecture
Asian art and architecture
Digital images and slides
Prints and photographs
Open to Harvard ID holders.
New Beverage Policy at the Fine Arts Library (effective January 2, 2020)
The Fine Arts Library now allows patrons to have coffee in an approved container in the main Reading Room only.
Please read the following carefully. Only water in a tight container with a secure lid is allowed in the stacks and carrels. No beverages are allowed in the Special Collections Study Room. This is a pilot policy and will be subject to change at any time.
No single use containers with the exception of water.
Containers must NOT exceed 16 oz, except for water bottles.
Containers must be fully covered with a tight, resealable lid.
Coffee is only allowed in the main Reading Room.
Only water is allowed in the stacks and carrels.
Beverages are not allowed in the Special Collections Study Room.
Food is not allowed anywhere in FAL.
The Fine Arts Library reserves the right to change and amend the policy as needed.
Spaces
Study Carrels 
Fine Arts Library has carrels available for reservation.  Learn more about carrels reservation.
Special Collections Study Room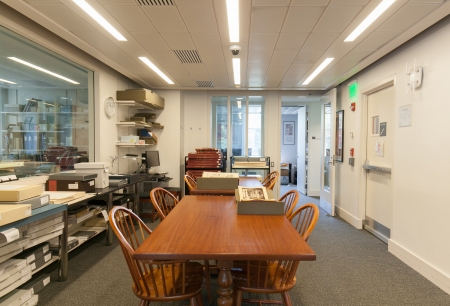 The Fine Arts Library welcomes researchers to our Special Collections Study Room to view historical photographs, rare books, manuscript facsimiles, auction sales catalogs, archival collections, and other materials from our Special Collections, which do not circulate outside of the library.
Special Collections Study Room will be available by appointment only for all researchers (both HUID holders and visiting researchers)
3 days advance notice is necessary for requesting an appointment.
 
Please note that Hollis Special Request does not send automated email confirmations. Onsite materials will be paged for you, so please visit the circulation desk on arrival. For offsite materials, please allow several days for delivery and feel free to contact us to confirm availability ahead of your visit.
Our Special Collections Study Room is not open for general study purposes. However, small classes and sections are welcome to use the Study Room for teaching with Special Collections materials. Please make a request via the Special Collections and Archives Class Request Tool or contact library staff at falibref@fas.harvard.edu directly.
Here are some things to keep in mind for your visit:
Handling guidelines must be conscientiously followed in order to preserve library materials for future use. Library staff are always available to provide guidance.
Researchers should not remove any items from the Study Room or rearrange any items within a folder or any folders within a box. If material appears to be out of order, please notify library staff.
If you need help in handling Special Collections materials, or if you have any questions about them, please don't hesitate to ask the library staff, who are always willing to provide assistance and suggestions to assist your research.
Researchers are welcome to bring pencils, laptops, tablets, phones (in silent mode), digital cameras, and other materials to assist in their research.
Researchers may bring personal books or papers into the Reading Room only if these items are necessary for their immediate research.
 All other materials and personal property not essential for research -- including coats, bags, backpacks, computer cases, and other belongings -- must be stored in the lockers provided.
We offer a number of supplies that may help you in your research, including: pencils, note taking paper, magnifying glasses, tape measures and rulers, a small light box, a desktop computer, and headphones.
The library does not permit the use of pens, tripods, scanners, camera flashes, special lighting, or any other equipment that rests directly on collection material or may pose a risk of damage.
Researchers are welcome to photograph most materials. Some collections may be subject to donor stipulations that limit or prohibit photography. Researchers are asked not to take pictures of the Study Room itself, other patrons, or library staff. 
In order to preserve relative quiet for our researchers, we ask laptop computer and digital camera users to turn off all audible features, if possible.
Reading Room
The Fine Arts Library Reading Room is an open, light-filled space located on the main level of the library. Learn more about the Reading Room.
Items are paged daily. Requests received by 9am will be available by 11am each day. Requests received between 9am-1pm will be available by 3pm each day. Requests received after 3pm will be available by 11am the following day. 
 
A current Harvard Library ID is required to view the materials requested through the Reading Room Request form. If you do not have a current Library ID, please contact the Harvard Library Privileges Office at 617-495-4166 or library_privileges@harvard.edu  prior to your Reading Room visit.
 
Past Exhibitions
Marcel Broodthaers: The Space of Writing: March 10 - June 5, 2020
Langdon Warner Photographs from the 1924 Dunhuang Expedition: January 2 - March 6, 2020
Picturing the Sultan: Images of Ottoman rulers in the Fine Arts Library's collections: September 12 - December 20, 2019
New Acquisitions in Dialogue: Palladio: July 7 - September 11, 2019
New Acquisitions Spotlight: Ellen Knudson, Intrusion: June 5 - July 3, 2019
New Acquisitions Spotlight: Richard Tuttle, Early Auden, 1991:May 6 - June 4, 2019
Night Revels of Han Xizai (韩熙载夜宴图):December 18, 2018 - March 15, 2019
The Fine Arts Library is the primary resource for the study of the history of art and architecture and related subjects at Harvard University.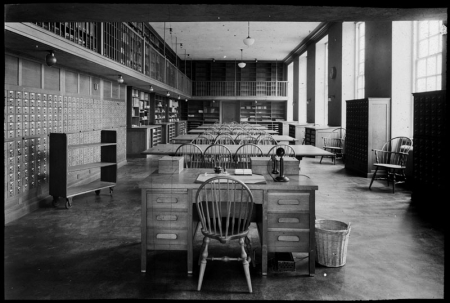 Since the founding of the Fogg Art Museum in 1895, the library has served the needs of teaching faculty, art museum staff, undergraduate and graduate students, researchers, and historians.
The history of the library is intertwined with Harvard's role in the development of academic programs in art and architectural history and museum studies. With the 1874 appointment of Charles Eliot Norton, Harvard became the first university in the United States to institute a professorship in art history.
 
In 1927, Harvard dedicated a new Fogg Museum building, which was designed to display art in a setting together with classrooms, conservation labs, painting studios, and a research library.
In 1962, Widener Library's arts-related holdings were transferred to an expanded library space within the Fogg Museum. At this time, the Fogg Museum Library became a part of the Harvard College Library and was given its current name, the Fine Arts Library.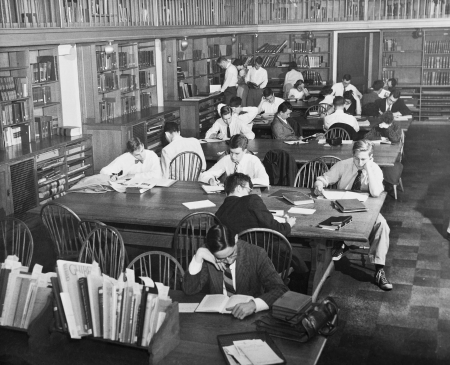 The newly combined collection formed one of the largest art research collections in the United States, serving as a model for other institutions for building their art libraries.
Other notable milestones for the Fine Arts Library include:
1979: The library became one of two documentation centers of the Aga Khan Program for Islamic Architecture, located at both Harvard and MIT
1991: The library expanded into the Werner Otto Hall addition on the east side of the Fogg Museum building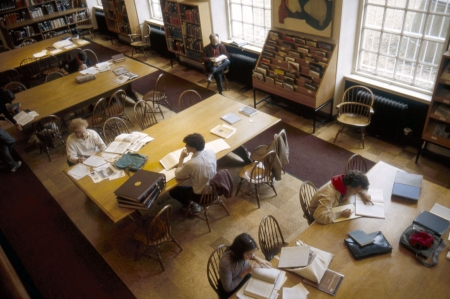 1999: Harvard's VIA (Visual Information Access) public image catalog was launched, and the Fine Arts Library began providing digital images to faculty for teaching
2009: During an extensive renovation of the Fogg Museum building, the Fine Arts Library moved to two locations: Littauer Center for the general and special collections and the Sackler building for the Digital Images and Slides Collection.
Since its beginnings as a museum library more than 120 years ago, the Fine Arts Library has developed its collections and services for a growing community of users in fields across the academic spectrum.